2015 GMC Canyon Driving Impressions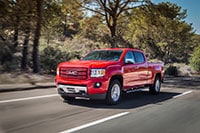 The GMC Canyon drives just like you'd expect a scaled-down Sierra to drive; most of the structure underneath is similar in every respect except size. It's solid and quiet, even in the Extended Cab versions, which have historically been magnets for rattles and squeaks because of doors latching together and the big hole in the side of the cab structure.
The front end is well planted and has plenty of roll stiffness; you'll have to be on a trail before you feel yourself leaning. The rear end has bit of kick to it on sharp impacts with the truck empty, typical for something that weighs 4000 pounds and can carry nearly half that much again. We never had a problem with it skittering about on rough surfaces or losing composure hitting a bump mid-corner.
Steering is electrically assisted, one of the reasons plowing is not recommended. It points Canyon easily, adds effort appropriately and never ran short of assist even wiggling a 21-foot tandem-axle boat trailer through a chicane only a few feet wider than the trailer. Directional changes are what we expect, better than a heavier full-size despite the narrower track but not as crisp as a car.
An All-Terrain package available on Canyon SLE trim uses the same suspension as a Z71 Colorado, and it's our favorite in terms of balance between ride comfort and handling. There are only two potential downsides to it: one, it cannot be combined with the forward collision and lane departure alert system option, and two, it doesn't compare to Tacoma's TRD Pro package suitable for high-speed off-highway travel.
Brake feel is very good, far better than we ever found on this nameplate before. Pedal response is quick, easy to modulate and firm. This is the first time we've gone as far as calling it confidence-inspiring.
The 2.5-liter four-cylinder and 3.6-liter V6 share direct-injection design and rev-happy power curves: Peak torque occurs at 4000 rpm on the V6, peak horsepower at 6800 rpm, higher than any other pickup. You won't need all that power much of the time but when you do expect a lot of revs and some noise to go with it.
Where Canyon uses engines with more horsepower than torque the competitors and Sierra prefer torque over horsepower. Competitors' older engines don't use direct injection so their four-cylinders are down 41-48 horsepower and 11-20 pound-feet of torque compared with Canyon but they either do it lower revs, with a shorter axle ratio, and/or in a lighter truck. Tacoma's 4-liter V6 delivers essentially the same torque as Canyon 3.6 while Frontier's 4-liter delivers more, and both competitors' V6 can be paired with a manual gearbox.
Fuel economy for the price leader Canyon SL rates an EPA-estimated 19/26 mpg City/Highway. The Canyon automatic bumps that to 20/27 mpg with 2WD and 19/25 mpg with 4WD. Take off 2/1 mpg for V6 ratings. We observed everything between 14 (towing) and 23 mpg in drives on varying terrain and traffic. For full-size comparison a Sierra V6 Double Cab (from about $30,500) scores the same city numbers and -2 highway ratings, while a Ram 1500 diesel (from $37,000) is 20/28 in 2WD.