2015 GMC Canyon Introduction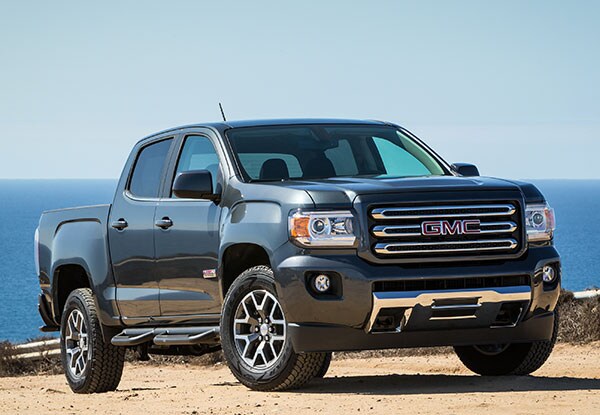 All-new, the 2015 GMC Canyon is a scaled down Sierra offering two engines, two cabs and two bed lengths. The percentage lower or smaller than the Sierra depends on what you're measuring and there is overlap between Canyon and Sierra Regular Cab and Double Cab in terms of cost, power, dimensions, and capacity.
Once just a Chevrolet Colorado with ruby red badges, the 2015 GMC Canyon is no longer a duplicate Colorado. Beyond doors and roof it has its own sheetmetal, lamps, wheels and grille. Four-wheel drive versions of the Canyon use Autotrac that allows on-pavement all-wheel drive for inclement weather, which Colorado does not have. Canyon costs more than Colorado because it has standard equipment Colorado doesn't have, and GMC's Pro Grade includes routine maintenance.
The 2015 GMC Canyon does everything you expect in a mid-size pickup. It can carry up to 1620 pounds of people or cargo (more than some full-size pickups), tow up to 7,000 pounds and, like competitors, can slide 4×8 building materials into the bed though they'll hang out the back and won't lay flat on the floor. Every Canyon except 2WD automatics can be flat-towed as a motorhome dinghy, but no model is rated for snow-plow use.
Basic power is a 200-horsepower, 2.5-liter four-cylinder, the other choice a 305-horsepower 3.6-liter V6. Unlike competitors and GM full-size pickups that favor torque over horsepower, these engines need lots of revs for full power, but lineage to GM cars like Cadillac means they are fairly refined.
Interiors are quite refined for mid-size trucks and very quiet. Modern voice-control infotainment systems, OnStar 4G LTE Wi-Fi hotspot and active safety systems lead the technology list, and almost anything you can get in a family sedan save power reclining seats is available.
The Extended Cab has two-plus-two seating with kid-size rear seats and a 6-foot, 2-inch pickup box. Its clamshell doors make the Extended Cab the easiest for loading awkward items or to have Rover hop in the rear seat.
The Crew Cab has a bench rear seat for three with legroom and headroom similar to mid-cab models of full-size pickups. Crew Cabs uses four conventional doors. Crew Cab comes with 5-foot, 2-inch and 6-foot, 2-inch box lengths.
GMC Canyon SL models are very basic with few options, destined for fleet managers and high-school budgets bent on customizing. Realistically anticipate most trimmed in the high-$20,000 to high-$30,000 range, and capable of exceeding $40,000 without checking too many boxes.
With most GMC Canyon models not far apart from a Sierra V6 Regular Cab or Double Cab in terms of load or towing capacity, maneuverability, fuel economy and how much garage space they need, your decision will come down to seating configurations and whether you prefer to spend your money on bigger-is-better or goodies and gadgets. After all, most full-size half-ton owners don't use anywhere near their trucks' maximum load or towing capacity, so if your needs fit into a Canyon, is bigger really better?