2015 GMC Yukon XL Introduction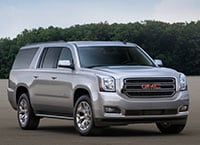 The GMC Yukon XL is for the active group who wants full-size utility: adult-passenger room in three rows of seats, generous cargo capacity, towing ability. Four-wheel drive is available for rugged terrain and wintry conditions. Denali models are luxuriously equipped.
Yukon XL is a longer version of the GMC Yukon, a relationship it shares with the Chevrolet Suburban, Cadillac ESV, Ford Expedition EL, and Lincoln Navigator L. Yukon XL doesn't tow any more than a regular Yukon but third-row room and cargo space improve notably and the longer wheelbase doesn't hurt in terms of towing stability.
For 2015, Yukon XL is all-new. Some bits look familiar but everything has been redesigned, re-engineered or re-imagined. Both 5.3-liter and 6.2-liter engines are new, more powerful and more efficient, the latter paired to a new 8-speed automatic transmission. All Yukon XL models are available with two-wheel drive or four-wheel drive.
Interiors have moved further upscale, and the new Yukon XL is very quiet, with less emphasis on four-wheel-drive utility than the original Yukons. New features include a head-up display, lane departure and forward-collision warnings, a vibrating seat alert, seven airbags in the front row, and wi-fi hotspot. Denali versions have a unique suspension and a hands-free power liftgate.
Yukon XL has seats for 7-9 people and cargo space behind them equal to three sedan trunks. It can carry 1400-1650 pounds of people, gear and trailer-ball weight, and tow a three-ton trailer behind all that. Denali tow ratings are slightly lower but they have more power.
The 5.3-liter V8 makes 355 horsepower smoothly, more than sufficient to move truck and moderate trailer down the road with ease. EPA ratings for a 4WD model are 15/22 mpg City/Highway, but who drives a Yukon XL empty? Denali's 6.2-liter V8 delivers 420 horsepower, 460 lb-ft of torque and rates 14/20 with four-wheel drive. Two-wheel-drive versions get one mile per gallon better.
Denali bridges the gap between Yukon and Cadillac Escalade but shop carefully. Escalade ESV's greater feature content can push it near $100,000, while a Denali XL is nicely equipped at $80,000. And some options that appear identical cost more on the Denali XL than they did on the Yukon XL.
Yukon XL's primary competitors are the roomier Ford Expedition EL, the Suburban, and the Toyota Sequoia. Yukon Denali XL better matches up against Lincoln Navigator L, Cadillac Escalade ESV, Lexus LX 570, Infiniti QX80, and Mercedes GL-Class.
If you have no trailer to pull or don't need four-wheel drive and rugged chassis, then you might be better served by a luxury van or, if cargo room isn't paramount, a crossover such as the GMC Acadia.
However, we think if you need any one or all of those attributes beyond rocky trails, we recommend the Yukon XL over the regular Yukon. Yes, it's 19 inches longer but still well less than a 20-foot garage, it requires only four feet more roadway to make a U-turn and offers adult third-row room, more than twice the luggage capacity behind it and more cruising range. For one mile per gallon and $3,000 we'd consider that a worthwhile tradeoff.