2015 Honda Accord Introduction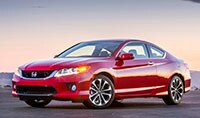 Long considered a top contender in the family-sedan market, the Honda Accord is among the best of a crop of superb midsize cars. Accord comes in four-door sedan and two-door coupe form, with a wide variety of engine and transmission choices. The Honda Accord was completely redesigned and re-engineered for the 2013 model year.
An Accord Hybrid sedan joined the lineup for 2014, boasting an EPA-estimated 50-mpg City fuel-economy rating from its smooth, advanced two-motor gas-electric hybrid powertrain. Also new for 2014 was an Accord Plug-in Hybrid with a 2.0-liter gasoline engine, which could be recharged overnight by connecting to an electrical outlet. The regular Accord Hybrid returns for 2015, but the Plug-in edition is absent, dropped after just one season on the market. Honda plans to announce its intentions for continuation of a Plug-in Hybrid model at Detroit's North American International Auto Show, in January 2015.
For 2015, four-cylinder EX-L and EX-L Navi trim levels of the Accord sedan and coupe gain a standard HomeLink universal remote system, programmable with codes for up to three devices. The four-cylinder EX coupe adds the Honda LaneWatch display, which uses a camera and in-dash screen to provide an enhanced view of the passenger-side roadway. All coupes of EX-L level and above get an auto-dimming inside mirror.
The 2015 Honda Accord comes standard with a 185-horsepower 2.4-liter four-cylinder engine. It's a smooth, enjoyable engine and, on sedans, gets an EPA-estimated 27/36 mpg City/Highway with the CVT (continuously variable transmission), or 24/34 mpg with a 6-speed manual gearbox. Sport Sedan and Coupe models with CVT are rated 26/35 mpg.
An available 3.5-liter V6 engine delivers 278 horsepower, and is EPA-rated at 21/34 mpg City/Highway with the 6-speed automatic transmission; V6-powered Accord Coupes rate 21/32 mpg with automatic. The Accord V6 coupe is also available with a sporty 6-speed manual gearbox, estimated at a less-thrifty18/28 mpg.
Equipped with a 2.4-liter four-cylinder gasoline engine, the Accord Hybrid seamlessly blends electric-only drive, gas-engine drive, and a combination of the two. The result is excellent fuel economy and smooth cruising. Accord Hybrid is EPA-estimated at 50/45 mpg City/Highway (47 mpg combined). We got better than 50 mpg while driving normally, though Consumer Reports managed only 40 mpg during its testing. Hybrid sedans come in three trim levels.
On the road, a Honda Accord is quiet and controlled, a blend of isolation from annoyances with responsive road manners. Overall, it feels smooth, well-rounded and refined, doing everything better than average.
All Accord models have room for four adults, or five in a pinch. Sedans, as expected, have more backseat space than coupes.
The midsize segment has plenty of viable competitors. Among them: Toyota Camry, Ford Fusion, Chevrolet Malibu, Nissan Altima, Mazda6, Hyundai Sonata, Kia Optima, and Volkswagen Passat. Drivers who want more space, performance or features might consider a Nissan Maxima or Toyota Avalon. Hyundai's Genesis Coupe is another option, for those who favor two-doors. Choices in the family sedan segment are bigger and broader than ever, and car buyers are the winners.