2015 Honda Fit Introduction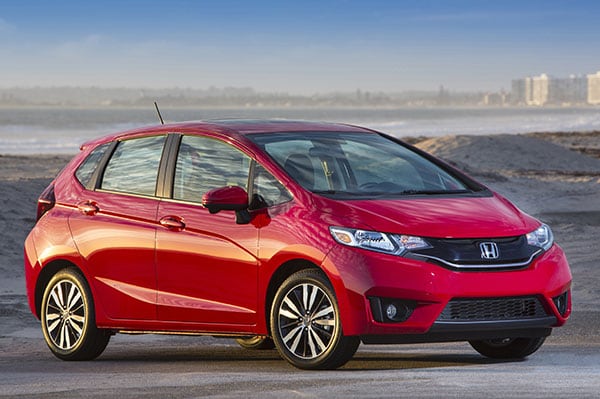 If there's one single area where Honda shows the rest of the industry how it should be done, it's packaging, and the Fit is Honda's packaging poster child. Introduced for the 2001 model year, the Fit is regularly compared to the tents from the Harry Potter movies, tiny on the outside, impossibly roomy within.
The 2015 Honda Fit is nominally the third generation, but really the first total makeover of Honda's smallest U.S. vehicle. And as makeovers go, this goes further than most: new unibody, new interior, new engine, new transmissions, new styling, safety upgrades, improved fuel economy ratings. Essentially there is no carry over from the previous Fit.
Like previous generations, and like its entire competitive class, the latest Fit is a front-drive subcompact. Unlike some competitors, it's offered only as a five-door hatchback.
The 2015 Fit wheelbase has been stretched, from the previous 98.4 to the current 99.6 inches, but overall length has actually diminished, from 161.6 to 160 inches. Width expands slightly, from 66.7 to 67 inches, and height is unchanged at 60 inches. While there has been some reapportioning of interior volume, the overall impression is unchanged: how did they pack this much space into such diminutive exterior dimensions? Particularly in the rear seat area. Once again, Honda seems to be defying physical laws.
Structurally, the new car benefits from expanded use of high-strength steel, reducing chassis weight and increasing its rigidity. Torsional rigidity is up by 15 percent, according to Honda, and shows to advantage in the Fit's eager handling traits.
Overall, the new car has gained a bit at the scales, less than 20 pounds when comparing base model to base model, a little more in others. This is due largely to added standard feature content and noise reduction measures. But the slight weight gain, which varies depending on trim level, is offset by a substantial increase in engine output.
The displacement of the Fit's four-cylinder engine is unchanged at 1.5 liters, but this is a new DOHC 1.5-liter, with Honda's iVTEC variable valve timing and lift system, direct fuel injection, more power, and improved fuel economy numbers. The Fit's previous 1.5 was a single overhead cam design with port injection, rated 117 horsepower at 6600 rpm and 106 pound-feet of torque at 4800, and was EPA rated for 27/33 mpg City/Highway when paired with the then-standard 5-speed manual transmission.
The new engine produces 130 hp at 6600 rpm, 114 lb-ft at 4600, and is EPA rated for 29/37 mpg paired with the new 6-speed manual. A continuously variable transmission (CVT) replaces the previous 5-speed automatic, and is the only automatic option offered with the new car. In most trim levels the CVT-equipped Fit is rated 32/38 mpg, though in the basic LX it cracks the magic 40-mpg frontier at 33/41.
Like many contemporary CVTs, the Fit's new automatic is programmed for simulated steps controlled by paddles shifters, to mimic the up- and downshifts of a conventional automatic. This mitigates the occasional slipping clutch effect that still plagues CVTs, but the new manual gearbox is distinctly more entertaining to employ.
Previous Fits have never been much of a threat in auto beauty contests, but the latest edition looks a little less utilitarian and a little more like a small scale street fighter.
Then there's that amazingly spacious interior. The change will be instantly apparent to anyone who climbs into the back seat, where the design team has exploited the wheelbase stretch to increase rear seat legroom by a mind-boggling 4.8 inches. Previous Fits stood out for exceptionally voluminous rear seat space, as measured against other subcompacts and compacts. With 39.3 inches of rear legroom, the new Fit is roomier than a good many mid-size sedans.
The Honda Fit had some catching up to do in terms of safety ratings, and this appears to have taken place. An early-production 2015 Honda Fit was originally tested in March 2014 by the Insurance Institute for Highway Safety and earned a Good rating in four out of five IIHS crash test modes but a Marginal score in the challenging small overlap frontal crash test. Honda made a running change to the bumper structure, the Fit was re-tested and earned an Acceptable score in the small overlap frontal crash test, which earned a top rating of Good from the IIHS. Early-production 2015 Fit models without the change can be retrofitted with the update. Honda says no vehicle in its class has received a higher rating from the IIHS than the Fit, which has been named a Top Safety Pick by the insurance industry organization.