2015 Honda Odyssey Driving Impressions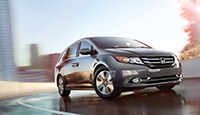 It's easy to see why the Honda Odyssey is called a benchmark. When it comes to road manners, it's the most refined of its kind. When it grew in 2011, it also got tighter.
The 3.5-liter V6 is smooth, quiet, and efficient. All versions use a 6-speed automatic, so EPA ratings are 19/28 miles per gallon across the line. Over thousands of very hard miles, our unit had averaged more than 19 mpg; our personal experience was 17 mpg in town and 28 mpg cruising at 65-75 mph. Odyssey's EPA ratings beat the six-cylinder Toyota Sienna, Nissan Quest, and Chrysler Town & Country, none of them better than 19/25 mpg. The Odyssey's V6 has higher EPA ratings than a four-cylinder Sienna.
Odyssey comes with an excellent 6-speed automatic transmission. It shifts quickly and smoothly as needed. The transmission lacks a sport mode, but we don't think it's needed. If using lower gears in snow or ice, we recommend selecting them from a standstill.
Vans generally handle better than people expect. They're often more stable than SUVs, because their center of gravity is lower. Among minivans, the Odyssey is one of the best combinations of benign, predictable handling and smooth ride quality. Fully loaded, an Odyssey splits the weight almost perfectly among all wheels, so handling behavior doesn't change significantly.
The steering is light on center, and weights up with cornering effort. It's direct without being overly quick, gives good feel for the front tires, and can pull a U-turn in 36.7 feet, which is very good for a big box. We found the Odyssey corners like a heavy, front-wheel-drive sedan: stable, predictable and secure. The electronic stability control is not invasive; on the one occasion we managed to reach the limit, it gently and quietly put things back on the ideal course.
The Odyssey rides like a big sedan, too, admirably soaking up bumps. The Toyota Sienna is stiffer but, compared to the Odyssey, it feels rubbery, leaving the driver slightly less connected and passengers rolling more. Among the vans, the Sienna Sport is the one we'd put closest to a driver's car.
The brakes also have good feel, unfazed by our downhill charges. No van is tuned for sports-car handling, but that didn't stop us from trying sports-car roads and parking-lot autocross courses. That tells you something about how it would behave in an emergency maneuver.
The Odyssey doesn't offer all-wheel drive, so it's not a van for places with lots of snow. The Toyota Sienna is available with AWD.