2015 Honda Odyssey Introduction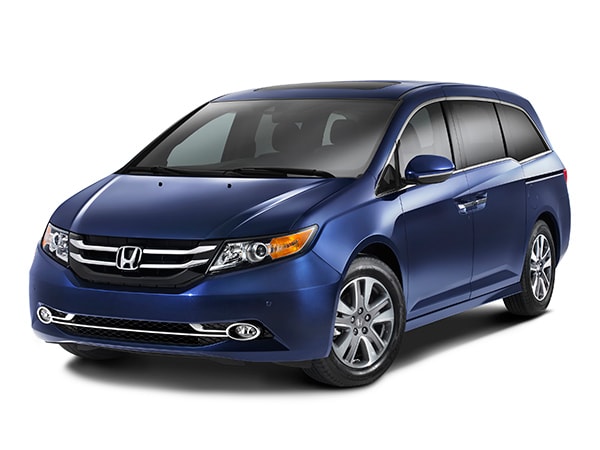 The Honda Odyssey is about function and making family life easier. It can carry a family of eight, or half a high-school soccer team, along with all their coolers, balls, tents, shoes, whatever. It can tow a small trailer with a motorcycle or watercraft. Odyssey can carry 4×8-foot plywood flat on the floor. In fact, 10-foot-long boards could be stacked on them, extending between the front seats when the convenient removable console is taken out. Best of all, it's loaded with conveniences designed to simplify life.
The Honda Odyssey was thoroughly redesigned and re-engineered for the 2011 model year, marking a new generation of one of America's favorite multi-purpose vehicles.
For 2014, Odyssey got minor tweaks to trim that freshened its appearance. Noteworthy equipment updates included the addition of Bluetooth and Pandora as standard equipment, plus the industry's only built-in vacuum cleaner. Standard in the top (Touring Elite) model, it works better than any cordless vacuum we've used and better than most corded handhelds. Neatly stowed in the left rear cargo area wall (where lesser models secure the second-row middle seat not in use), the Shop-Vac built HondaVAC unit runs for 8 minutes on battery, indefinitely with the engine running, and can reach anywhere in the van.
The 2014 Odyssey also gained in safety, with more warning systems and driver assists, a benefit of its revised structure. Odyssey was the first van to earn an IIHS Top Safety Pick Plus, including a Good rating in the small overlap front crash test. (The Insurance Institute for Highway Safety is a lobbying organization for the auto-insurance industry.)
Because the Odyssey received a number of upgrades for 2014, the 2015 model continues with no significant change.
Though still called a minivan, there's nothing mini about the modern minivan. The Honda Odyssey, Toyota Sienna, Dodge Grand Caravan, Chrysler Town & Country, Nissan Quest, and Kia Sedona are big passenger vehicles, most stretching past 16 1/2 feet in overall length. If you need a true mini-van, you might consider the Mazda5, which is sized more like European family vans.
For many uses, and especially for carrying people, a Honda Odyssey or one of its competitors makes more sense than a full-size sport-utility or crossover. A minivan often handles better and is generally more space- and fuel-efficient. The Odyssey is less expensive than a luxury SUV, gets better fuel economy, and has more cargo room, with greater flexibility in how the space is configured.
Unless you need all-wheel drive or you tow a big car or boat, the Odyssey should work nicely. Odyssey's third-row seats set a new standard in legroom, with as much space as the front seats in a Cadillac Escalade, or even the Odyssey itself.
Honda's 248-horsepower V6 engine and 6-speed automatic transmission lead the class in fuel economy without lagging in performance. Active cylinder management lets the engine run on 3, 4 or 6 cylinders as needed, improving fuel efficiency. Specifically, the EPA estimates Honda's minivan at 19 mpg in city driving and 28 mpg on the highway (22 mpg combined).
Comfort and poise are excellent, even with six large people on board. Six airbags, including three-row side curtains, are standard. Blind-spot and lane-departure warnings, Honda's LaneWatch right-side camera view, and forward collision warning are optional.
Odyssey's main competition is the Toyota Sienna, which offers more choices with a four-cylinder engine, a sport model and available all-wheel drive; Sienna does not offer eight seats, however. Dodge Grand Caravan and Nissan Quest are the primary alternatives to the Honda and Toyota, and Kia has redesigned its Sedona for the 2015 model year.