2015 Honda Odyssey Summary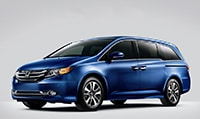 The Honda Odyssey seats plenty of people, has a vast cargo capacity, excellent room, and is chock full of storage places and good ideas for convenience. Its crash ratings are the best of any minivan. Honda's V6 is smooth and efficient, with excellent fuel economy. The handling and ride are sweet. The Odyssey can be equipped for full-tilt style and fun, with a rear-seat entertainment system. For most people, the Honda Odyssey is a better vehicle than a crossover SUV.
G.R. Whale and Sam Moses contributed to this NewCarTestDrive.com report.