2015 Hyundai Genesis Driving Impressions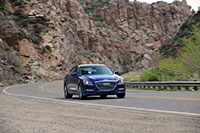 The 2015 Hyundai Genesis sedan strikes a good balance between comfortable and responsive. With the 3.8 tuned to the more luxurious side, it's a good highway cruiser without feeling too billowy.
Two engines are available on the 2015 Hyundai Genesis and carry over from the last generation, but have been heavily revised. A 3.8-liter V6 produces 311 horsepower and 293 pound-feet of torque and runs on regular fuel. It's available in both rear-wheel-drive and all-wheel-drive variants. The 5.0-liter V8 makes 420 hp and 383 lb.-ft of torque with premium fuel, or 407 hp and 372 lb-ft with regular fuel. Both engines are naturally aspirated.
All models use Hyundai's 8-speed transmission with paddle shifters (Shiftronic), which uses fuel-saving measures like skip-shift technology help to reduce emissions. The 8-speed transmission does an admirable job staying efficient while offering up adequate power.
Acceleration in the 3.8 is smooth and satisfying, but it won't leave you breathless. We found the V6 perfectly capable, and the best choice for most drivers. Cruising is pleasurable, and there's plenty of oomph for merging or passing without making passengers nervous. Available all-wheel-drive makes the Genesis 3.8 even more appealing for those in snowy climes.
Moving from the 3.8 to the 5.0 is a little like checking out of the Hilton and into the Mandarin Oriental. The V8 is silky and satisfying. We merged and passed in seconds, finding ourselves accidentally speeding without feeling a thing. While this is definitely the most impressive incarnation of the 2015 Hyundai Genesis, we also think the big V8 is overkill for everyday driving.
Hyundai worked with Lotus Engineering (the same company that makes those exotic sports cars) on the all-new Genesis chassis and tuning. Suspension is revised with a front and rear multilink design and aluminum shock absorber housing that's lighter and more rigid than the old steel design. The result is a stable and solid road feel, without much body roll, especially considering the hefty 4,138 curb weight of our 3.8 test car (4,541 pounds for the Genesis 5.0). Weight distribution has also been slightly improved from 52/48 to 51/49, which equates to a more balanced ride.
Also new on the 2015 Genesis is a rack-mounted, motor-driven electric steering system, replacing the old hydraulic steering. The variable-ratio setup is more relaxed in straight lines for stable freeway cruising, and tighter for low-speed maneuvering such as in parking lots. We found the steering responsive in normal driving but tuned more to the comfortable side, even in sport mode, requiring just a tad more effort around high-speed sweepers than one would need in a BMW 5 Series. Though, the Genesis' handling has the edge over the Lexus GS and Lexus ES, both of which can feel somewhat boaty.
Four-wheel-disc brakes are responsive, yet at higher speeds we found we had to get our foot into it a couple of times to really stop quickly. Really mashing into the pedal will kick in Brake Assist, which will help to stop the car even faster in an emergency braking situation. Optional on the 3.8 and standard on the 5.0 is full-speed adaptive cruise control, which can automatically bring the car to a full stop and start up again, as well as automatic emergency braking to mitigate a collision. Drivers can choose to set a desired speed, or set a following distance.
Optional safety features, some standard on the 5.0, include blind spot detection, cross-traffic alert, lane-change assist and lane keeping assist. Also optional on the 3.8 and standard on the 5.0 is a haptic steering wheel, which will vibrate to alert the driver when he or she veers out of the lane, or has a fast-approaching vehicle in the blind spot. An audible chime will also sound when any of these safety systems are activated. We didn't like the vibrating steering wheel and found the default blind-spot and lane-keeping assist systems to be overly aggressive, but opinions of these systems often vary according to personal preference. The Genesis also offers an in-between solution, with a less aggressive threshold that can be changed in the vehicle settings. The systems can also be turned off with the touch of a button.
With the previous (pre-2015) Genesis, the cabin was quiet, but rough roads did produce a moderate amount of noise and vibration. Now, additional sound dampening is everywhere. Even the engine compartment is sealed, much like a door with weather stripping. That keeps the ride blissfully quiet under most circumstances. Though, at highway speeds through the very windy desert, we did notice some wind noise coming from around the A-pillar.
Fuel economy for the 2015 Hyundai Genesis is 18/29 mpg for the 3.8-liter RWD model and 16/25 mpg City/Highway for the 3.8-liter AWD model. With the 5.0-liter V8, fuel economy understandably suffers, with 15/23 mpg City/Highway. After a nearly 200-mile drive of our 3.8-liter RWD test car, we averaged 21.4 mpg mixed city and highway roads, including some driving in sport mode. That's about on-par with its EPA ratings of 18/29 mpg City/Highway and 22 mpg combined.