2015 Hyundai Genesis Introduction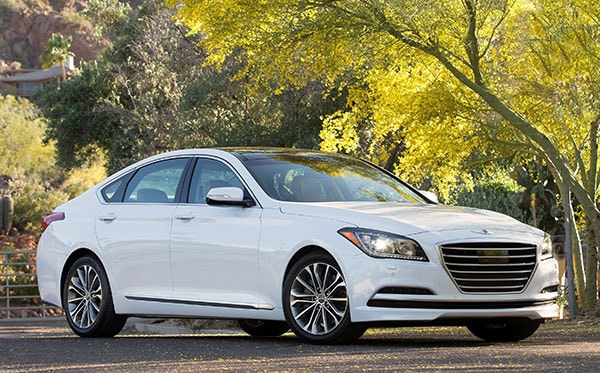 If the badge were missing, one might easily mistake the 2015 Hyundai Genesis for a European luxury sedan. All-new for the 2015 model year, the Genesis, already impressive in its previous incarnation, gets even better.
First introduced for the 2008 model year, the Hyundai Genesis sedan received much acclaim in the automotive press. It was refreshed for 2012 and is completely redesigned for 2015.
Size-wise, the 2015 Hyundai Genesis sedan grows in length by only 0.2 inches, but the interior is roomier thanks to a wheelbase that's been stretched by nearly three inches, allowing for more room in the cabin and shortening overhangs for improved performance. It's longer and wider than other midsize sedans, and is technically classified by the EPA as a large vehicle. That's good news when it comes to space, but it also means more bulk.
Unlike most new versions of cars that boast lighter, more aerodynamic designs, the Genesis takes a different tack. It feels solid and substantive, and despite the use of some new lightweight materials, the Genesis manages to gain about 100 pounds. Hyundai argues the gain is, in part, to boost safety ratings, and despite the increase, the 2015 Genesis manages to improve fuel economy by 1 mpg.
Two engines are available on the 2015 Hyundai Genesis and carry over from the previous generation (pre-2015), but have been heavily revised for the 2015 models. The standard 3.8-liter V6 produces 311 horsepower and 293 pound-feet of torque and runs on Regular gasoline. It's available in both rear-wheel-drive and all-wheel-drive variants. The 5.0-liter V8 makes 420 hp and 383 lb.-ft of torque with Premium fuel, or 407 hp and 372 lb-ft with Regular gas. Both engines are naturally aspirated.
All models use Hyundai's 8-speed transmission with paddle shifters (Shiftronic), which uses fuel-saving measures like skip-shift technology help to reduce emissions.
We found the V6 perfectly capable, and the best choice for most drivers. Available all-wheel drive makes the Genesis even more appealing for those in snowy climes. The V8 is silky and satisfying for those looking for even more power.
Fuel economy for the 2015 Hyundai Genesis is 18/29 mpg for the 3.8-liter RWD model and 16/25 mpg City/Highway for the 3.8-liter AWD model. With the 5.0-liter V8, fuel economy understandably suffers, with 15/23 mpg City/Highway.
In the cabin, materials are of good quality, and the layout is attractive and intuitive. Standard leather upholstery on the base model is nice, but not buttery-soft like one might find in more expensive luxury cars; we prefer the upgraded leather that comes on the 5.0. Rear passengers have adequate headroom, though rear legroom falls short compared to some. Cargo space is plentiful at 15.3 cubic feet.
Infotainment controls are modeled after those of German cars. A knob on the center console, similar to those found on Audi, BMW and Mercedes-Benz controls navigation, audio, phone and settings. And unlike those German cars, the standard 9.2-inch LCD display is a touch-screen that allows you to access some features directly by pushing one button, instead of going into an endless series of menus.
Hyundai says it is aiming squarely at German midsize sedans, but although the 2015 Hyundai Genesis offers far more features for the money, those looking for brand cachet still might have a hard time being convinced. We think the Genesis boasts superior driving dynamics to those of the Lexus GS or ES, and the Hyundai comes with more standard features. The new Cadillac CTS offers similar value, but its race-bred powertrain and chassis offer a much more engaging ride, and the available V6 engines are more powerful. Though the Genesis is thousands of dollars less than the BMW 5 Series, the Genesis really can't touch the BMW in terms of dialed-in performance. As for the Mercedes-Benz E-Class, the Genesis comes close with ride and handling and offers many more standard features, but may never achieve the status afforded by the three-pointed star.