2015 Hyundai Sonata Driving Impressions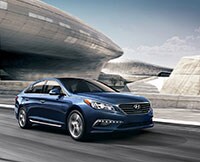 The Sonata is conceived and designed to the deliver the kind of motoring that's made the Camry America's bestselling passenger car for so many years: quiet, unobtrusive, smooth, and reliable. And the Sonata delivers on those objectives. There's a stronger sense of driver involvement here than the pre-2015 Camry delivers (we have yet to log any seat time in the major makeover that's coming for 2015), but drivers seeking a sporty feel might do well to check out a Mazda 6 or Honda Accord.
Most of our drive time in the Sonata was in a high trim Limited model powered by the basic 2.4-liter four-cylinder. Aside from a bit of minor road noise on pebbly pavement, the car is exemplary in terms of quiet operation, as well as supple ride quality, although the experience was on two-lane highways near Montgomery, Alabama, that never know the rigors of winter.
Performance with the 2.4-liter engine and 6-speed automatic is tepid, albeit smooth. The 2.0-liter turbo picks up the pace, as you'd expect, and paddle shifters make manual shifting an option, although shift response is relaxed. But it may be that the new 1.6-liter turbo is the best bet. Acceleration isn't quite up to the 2.0-liter, but it's not far behind, and the new 7-speed is more fun to operate. Its upshifts and downshifts may not rival Volkswagen's DSG transmission, but they're a cut above those of Hyundai's 6-speed automatic.
The 2.4-liter DOHC 16-valve direct injection four-cylinder is rated at 185 horsepower, 178 pound-feet of torque. The 2.0-liter DOHC 16-valve four-cylinder, turbocharged and intercooled, is rated at 245 hp, 260 lb-ft of torque. The 1.6-liter DOHC 16-valve four-cylinder, turbocharged and intercooled, is rated at 177 hp, 195 lb-ft. The Hybrid uses a 2.4-liter DOHC 16-valve Atkinson Cycle four-cylinder engine rated at 159 hp, 154 lb-ft, plus a permanent magnet AC synchronous electric motor rated at 47 hp, 151 lb-ft of torque for a combined powertrain output of 199 hp, 235 lb-ft of torque.
As noted above, the electric power steering system in Sonata Sport models, including both turbos, differs from the one employed in the standard Sonata. The electric motor is mounted on the steering rack, rather than the column, providing more tactile feedback to the driver. For drivers who value a stronger sense of connection with the vehicle, this system is worth the step up to a higher trim.