2015 Jaguar F-Type Introduction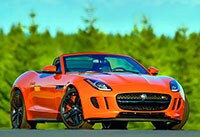 The Jaguar F-Type was introduced in 2014, save the XK220 the first two-seater from the brand in decades and Jaguar's first sports car since the E-Type of 40 years prior. F Convertible oozes style and sensuality, comes well equipped and offers performance that backed up the look.
For 2015, Jaguar has added a Coupe to the model lineup, with V6 and V6 S matching the Convertible, the 495-hp V8 S of the soft-top upgraded to the 550-hp V8 R Coupe. We won't dare debate which is the more attractive, only note the Coupe is even more solid, less expensive and has considerably more trunk space if you don't travel light: James Bond style at a third his Aston's price. There is also a very limited-edition Project 7 Convertible, the most highly-strung, least-practical F-Type.
F-Type is not a traditional Jaguar with a supple ride or burled walnut woodwork. By Jaguar standards it's a sports car with generous power, superb firm suspension and a driver-centric, thoroughly modern cabin. By sports car standards it is a modern luxury sports-GT car: relatively big, heavy, swathed in leather and fitted with near-endless amenities.
With shapely bodywork mistaken only occasionally for an Aston Martin this is one of the prettiest news cars extant. There's just enough heritage in the styling to evoke the E-Type without any hint of retro; compared to an F-Type, Porsche's 911 Carrera reminds of a Vivaldi concerto…the same thing 50 different ways (and years). Jaguar designer Ian Callum hasn't yet been knighted, but expect it any day.
The low-slung cabin features very supportive if none-too-cushy seats, clear gauges, logically grouped controls and a big buttress that both separates the driver and passenger zones and gives the latter a hand-hold. Convertibles offer enough trunk space for a pair of overnight bags, while the Coupe swallowed a 24-inch roller and some smaller gear.
Others may offer more advanced gadgets or driver assistants but the F-Type includes as standard things like navigation, leather/suede upholstery and a name-brand 10-speaker sound system that many alternatives charge extra for.
Perhaps bets of all, the F-Type has an engaging soundtrack, plenty of power and crisp dynamics to deliver performance expected from a sporty Jag. It will put up some impressive numbers, and if you have good car control bring a smile to your face as it destroys rear tires drifting.
In late 2014 Jaguar announced the 2016 F-Type, which has some noteworthy additions. These include the option of all-wheel drive on a V6 S automatic, a six-speed manual gearbox for rear-drive V6 models, a 550-hp R Convertible replacing the V8 S, and all-wheel drive standard on V8 F-Types. We're most excited about the manual gearbox, noting all-wheel drive will help initial acceleration but also add weight and cost.
The F-Types primary target is the Porsche 911, which costs about $6,000 more than a V6 S Coupe and $15,000 more in Convertible form. Although you could argue the F looks better than any challengers, V6 shoppers might consider the Audi S5, BMW M4, Chevrolet Corvette, Mercedes-Benz SLK and Porsche Cayman as alternatives. F-Type V8 competition might include the Audi R8, BMW M6, Maserati Gran Turismo, Mercedes-Benz AMG GT, Porsche 911S, and it makes a good substitute for an Aston Martin Vantage for tens of thousands less.