2015 Jaguar F-Type Summary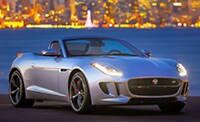 The Jaguar F-Type is a worthy successor to the legendary E-Type. It combines sports-car performance with a luxurious cabin and seductive bodywork no competitor can match. All are F-Types are quick and can dispatch a winding highway with aplomb, but most of us prefer the 380-hp V6 S Coupe's balance to the V8's firepower.
Sam Moses reported from Washington state, with G.R. Whale reporting from Los Angeles.