2015 Jaguar XJ Introduction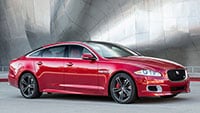 The Jaguar XJ balances spirited performance with smooth operation and poise. A full-size luxury sedan, the XJ is available in both regular and long-wheelbase variants. Rear-wheel drive is standard, all-wheel drive is available.
Little has changed for the 2015 model year. The 2015 Jaguar XJ lineup has been streamlined, as the Supersport and Ultimate models have been discontinued and engine choices drop from five to three. All 2015 XJ engines are supercharged.
A supercharged V6 comes on Jaguar XJ and Portfolio models. Rated at 340 horsepower and 332 pound-feet of torque, the V6 gets an EPA fuel economy rating of 18/27 mpg City/Highway with rear-wheel drive, 16/24 mpg with all-wheel drive.
A 5.0-liter supercharged V8 comes on Jaguar XJ Supercharged models that makes 470 horsepower and 424 pound-feet of torque, and launches from 0 to 60 mph in just 4.9 seconds. Fuel economy is EPA-estimated at 15/23 mpg City/Highway for standard and long-wheelbase lengths.
The Jaguar XJR, which joined the lineup for 2014, is powered by a 5.0-liter supercharged V8 rated at 550 horsepower and 502 pound-feet of torque. The XJR will rocket from 0-60 mph in just 4.4 seconds, according to Jaguar. XJR models are available in standard and long-wheelbase variants. Fuel economy for the 2015 XJR is rated by the EPA at 15/23 mpg City/Highway, the same rating as some of the XJ's less powerful models.
An 8-speed automatic transmission comes on all 2015 Jaguar XJ models.
All XJ models boast an exquisite cabin, with rich leather upholstery and a variety of luxury trims.
Jaguar XJ competes with Audi A8, BMW 7 Series, Mercedes-Benz S-Class. Jaguar XJR competes with Audi S8, less expensive and less powerful, and the BMW 760Li, which offers plenty of power with its twin-turbocharged V12 but is more expensive than the long-wheelbase XJR.