2015 Jaguar XK Introduction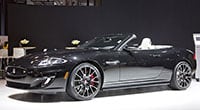 All good things come to an end. So it is with the Jaguar XK, as 2015 is its final model year. To mark that occasion, Jaguar is issuing a Final Fifty limited-edition: the last XKR models (25 coupes and 25 convertibles) produced for the U.S. market. All will be Ultimate Black with special trim, equipped with Performance and Dynamic Packs. This limited-edition was inspired by the final fifty-special-edition run of Jaguar's E-Type, in 1974.
Timeless and stylish, the Jaguar XK nameplate traces its roots to 1948 and the XK120. As its name suggests, the XK120 was capable of 120 mph, quite a feat for its day. The first XK was sporty, stylish and classy. Clark Gable drove one. Today's Jaguar XK is stylish, classy, sporty, and capable of very high speeds. As with earlier XKs, it comes in coupe and convertible versions.
All Jaguar XK models add standard equipment for 2015: HD radio, Active Front Lighting, and bright metallic pedals. The 2015 Jaguar XK Coupe and Convertible are far from basic, the entry-level models. They come slathered in leather upholstery with 16-way front sport seats, satellite radio, rearview camera, and parking sensors. Jaguar XK models are powered by a 5.0-liter V8 that produces 385 horsepower and 380 pound-feet of torque. Fuel economy is an EPA-rated 16/24 mpg City/Highway for the XK Coupe, 16/22 mpg for the XK Convertible.
Jaguar XKR models feature a supercharged version of the same engine, packing 510 horsepower and 461 pound-feet of torque. Jaguar XKR-S Coupe and XKR-S Convertible feature a 5.0-liter supercharged V8 engine that churns out a breathtaking 550 horsepower and have a top track speed of 186 miles per hour, making the XKR-S the fastest production Jag ever. An XKR-S can leap from 0-60 mph in 4.2 seconds, according to Jaguar. Supercharged XKR and XKR-S coupe and convertible models are EPA-rated 15/22 mpg.
In our test drives, we've found all Jaguar XK models solid and stable, even at very high speeds. The 385-hp V8 has plenty of power, while the supercharged versions move the XKR into supercar territory. All Jaguar XK models have a 6-speed automatic transmission with paddle shifters, which we found smooth and tight with rev-matching downshifting.
Ride quality is tough to fault, with an Adaptive Damping System automatically adjusting for ride comfort when cruising, or tightening it down for hard cornering. The more powerful XKR is easy to get out of hand, especially in the more aggressive Dynamic mode, and requires driving with care and respect. All variants are relatively heavy, but a stiff chassis and precision driving dynamics do a good job handling the weight.
The Jaguar XK runs against tough company, but manages to offer plenty of horsepower and refinement for the money. The BMW 6 Series Coupe boasts classic 50/50 weight distribution, but BMW has neither the character nor the statement of luxury and exotic sports car that Jaguar offers. Porsches cost more. Exotics such as the Aston Martin V8 Vantage, Audi R8, Maserati GranTurismo Coupe, and Nissan GT-R start in the middle price-wise between the XK and the XKR-S models.