2015 Jeep Compass Introduction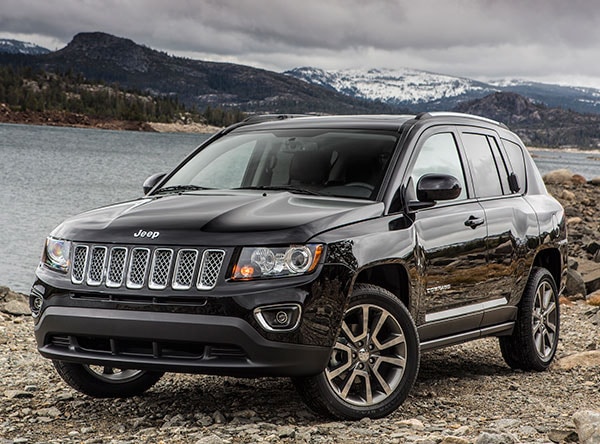 Compass is built like a car and drives like one. Yet, it possesses much of the versatility and capability associated with a small SUV.
Though not as rugged as a Wrangler or even a Patriot, Jeep Compass stacks up well against Honda CR-V, Hyundai Tucson, Kia Sportage, Subaru Forester, Toyota RAV4, and other entry-level SUVs.
Jeep Compass gets new options for the 2015 model year. A new High Altitude Package is available for 2015 Compass 4×4 models with the 6-speed automatic transmission; the High Altitude Package includes leather seating, a power sunroof, power six-way driver's seat, and 17-inch aluminum painted wheels. Navigation is now an option for the 2015 Compass Latitude model. All 2015 Jeep Compass models come with a new dome light that replaces the previous rechargeable flashlight. Compass was substantially upgraded for 2014 after being freshened for 2011 and 2009 and launched as a 2007 model.
Two engines and four transmissions are available, along with front-wheel drive or all-wheel drive. Buyers may choose from two levels of the active 4×4 system. A 6-speed automatic transmission is standard on Compass Limited, optional for Compass Sport and Compass Latitude. Two versions of a continuously variable transmission (CVT) are available for specific applications.
Front-wheel drive is standard, but buyers can choose Jeep's Freedom Drive I or Freedom Drive II Off-Road Package for improved traction. Freedom Drive I is full-time all-wheel drive, delivering almost all of the torque to the front wheels until more traction is needed at the rear (with up to 60 percent available there). A lock mode may be engaged for snow, sand and mud. Freedom Drive I is a good system for wintry conditions.
Freedom Drive II is Jeep Trail Rated, meaning it's highly capable on rugged terrain. Freedom Drive II uses a continuously variable transaxle (CVT2L) with a low range that engages when Off-Road mode is activated. Included are 17-inch all-terrain tires and aluminum wheels, raised ride height, a full-size spare tire, skid plates, tow hooks, fog lamps, and manual seat height adjuster. On the down side, Freedom Drive II is likely to give up two or three miles per gallon in fuel economy.
A 2.0-liter four-cylinder engine comes standard, making 158 horsepower and 141 pound-feet of torque. The 2.0-liter engine is available with a 5-speed manual, a 5-speed automatic, or a continuously variable transmission. With the 5-speed manual transmission and front-wheel drive, the 2.0-liter engine delivers an EPA-estimated 23/30 mpg City/Highway.
A larger 2.4-liter four-cylinder engine is available that produces 172 horsepower and 165 pound-feet of torque. Best fuel economy is with the 5-speed manual with an EPA-rated 23/28 mpg City/Highway. Also available with the 2.4-liter engine are a 6-speed automatic and the CVT2L.