2015 Jeep Grand Cherokee Introduction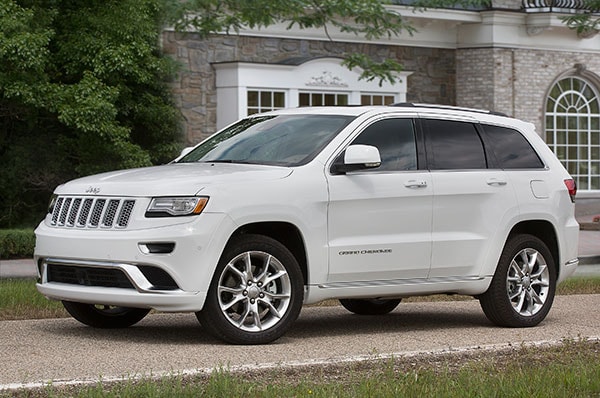 Jeep Grand Cherokee is the flagship of the brand and for many years was the quintessential SUV. Today, the 2015 Jeep Grand Cherokee seats a family of five, drives well on road or off and sports classic good looks.
There have been few changes for 2015 following a major refresh for 2014 that included exterior and interior upgrades, an 8-speed automatic transmission, and the addition of a diesel engine.
New for 2015: A new Summit California Edition appearance package is available, along with an optional Argentina Tan leather interior. Active Noise Cancellation is standard on 2015 Grand Cherokee Summit models. Engine output for the 2015 Grand Cherokee SRT has increased to 475 horsepower and 470 pound-feet of torque; and there's a new special-edition Red Vapor version. The other 2015 Grand Cherokee models carry over unchanged from 2014. The last time Grand Cherokee was completely redesigned was for the 2011 model year.
Rear-wheel drive comes standard on most models. Rear-wheel-drive versions account for a small fraction of sales, and we think they miss the point, but of course they do get better fuel economy than the four-wheel-drive versions.
Four-wheel drive and all-wheel drive are available, depending on whether the driver needs outstanding capability for rugged terrain or wintry weather, respectively. Four-wheel drive, low-range gearing, and a full-size spare tire, all required for genuine off-road activities, are available and there is a choice of suspensions.
Four engines are available. Chrysler's 3.6-liter V6 engine is standard and more than sufficient for anything but heavy towing. EPA estimates for the 3.6-liter V6 with 4WD are 17/24 mpg City/Highway.
A 5.7-liter Hemi V8 is available, useful for towing with 360 horsepower and 390 pound-feet of torque. A Grand Cherokee with the 5.7-liter V8 and four-wheel drive is EPA-rated at 14/20 mpg.
Diesel power is available. With 240 horsepower and 420 pound-feet of torque, the EcoDiesel engine delivers effortless power for towing or traversing rugged terrian. The EPA estimates for the diesel with four-wheel drive are 21/28 mpg City/Highway. EPA estimates for diesels tend to the pessimistic side, counter to ratings for gasoline and hybrid vehicles, which can be optimistic.
In its current form, Grand Cherokee displays a cleaner, more integrated look than in the past. You can trace some development of the Grand Cherokee back far enough that it paralleled the Mercedes-Benz M-Class, but with the latest electronics it will feel familiar to drivers of other Chrysler products. (The diesel engine hails from VM, part of Chrysler's Fiat link). If there's a safety feature you want that isn't standard, you can often get it as an option.
The Jeep Grand Cherokee competes against a spectrum of vehicles including four-wheel-drives such as the Land Rover LR4, Mercedes-Benz G-Class, Toyota 4Runner and Land Cruiser. Rivals also include compact-to-mid-size crossovers and niche models, and to a lesser extent, the big Chevrolet Tahoe and Ford Expedition. If you want seven-passenger seating, the closest choice is the Dodge Durango.
SRT is a standalone brand within Chrysler, but we include the Grand Cherokee SRT here because it is essentially a faster Jeep Grand Cherokee for on-road use and it can be purchased at any Jeep dealership. This steroidal performance wagon competes against the Porsche Cayenne, BMW X5M and X6M, Mercedes-Benz ML63 AMG, and perhaps the Audi SQ5 or Cadillac CTS-V wagon. It's the fastest, most expensive, thirstiest Grand Cherokee, and the last one you want to use in the same sentence with off-road. It isn't a rational choice, but we don't believe choosing a car must be rational. We have irrational vehicles in our own garages and we love them.