2015 Jeep Patriot Introduction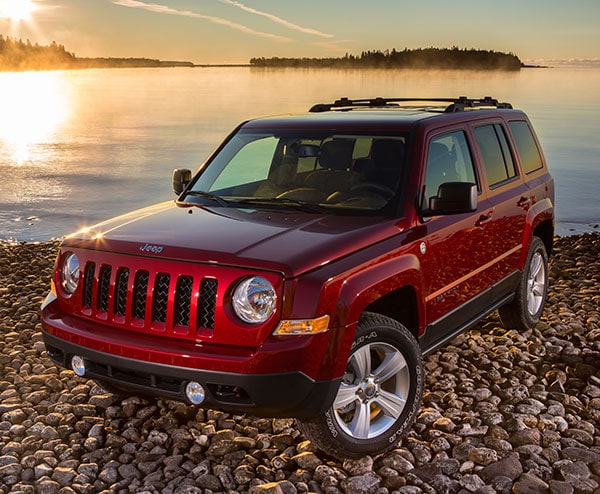 Jeep Patriot is the most affordable model from the off-road brand. It looks the part with its square lines, seven-slot grille, and round headlights. Patriot and Compass are based on a car platform, but still offer moderate off-road ability, and a suitably equipped Patriot earns Jeep's rigorous Trail Rated label.
Patriot carries over largely unchanged for the 2015 model year. Garmin navigation is an option for the Latitude model, and a new dome light replaces the removable, rechargeable flashlight used previously. Launched as a 2007 model, along with the Compass, the Jeep Patriot was updated for 2009, 2011 and 2014.
A four-door compact SUV, Patriot offers a roomy cabin for front and back seats. The 60/40-split rear seat folds flat, and a flat-folding front passenger seat is optional, allowing room for an 8-foot ladder.
Patriot is available with front-wheel drive or a choice of two all-wheel-drive systems, including the CVT2L version that Jeep qualifies as Trail Rated.
Those who like to go off the pavement (or tow more than 1000 pounds) should choose the Trail-Rated Freedom II AWD system. This uses gearing 20-percent lower than the other models for steeper climbs and descents. But be warned: if you mistake it for a true 4WD with a low-range transfer case, like a traditional Wrangler or big Grand Cherokee, you may soon find yourself truly stuck.
Two four-cylinder engines are offered. We prefer the 2.4-liter four-cylinder that makes 172 horsepower and 165 pound-feet of torque. Fuel economy is an EPA-estimated 23/29 mpg City/Highway with the 5-speed manual transmission and front-wheel drive. All-wheel drive and the 6-speed automatic transmission drop the estimate to 21/27 mpg, but we think Jeeps should have all-wheel traction. The 2.4-liter delivers good power; put the pedal down even while cruising uphill at 75 miles per hour, and it will accelerate with reasonable haste.
The smaller 2.0-liter four-cylinder engine is rated 158 horsepower and 141 pound-feet of torque with an EPA-estimated 23/30 mpg City/Highway with the manual transmission and 2WD or 22/27 mpg City/Highway with the continuously variable transmission.
Incorporating a crawl ratio for heavier-duty off-roading, a special continuously variable transmission (CVT2L) is optional on all-wheel-drive Patriot models with the 2.4-liter engine and Freedom Drive II package. This combination gets an EPA-rated 20/23 mpg.
Patriot is light and nimble on twisty roads. When maneuvering around town, turn-in is sharp. The body is well isolated from the wheels: You can hear the tires hitting expansion strips on the freeway, but you can't really feel the impact. The independent suspension works well. We found the Patriot delivered steadiness and comfort during a long day of driving on patchy two-lanes, hard-packed dirt roads, sandy off-road trails, shallow rivers, and deep gullies.