2015 Jeep Patriot Walk Around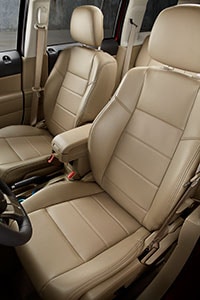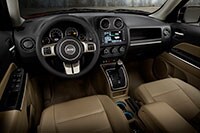 Patriot features traditional Jeep styling cues: round headlights, seven-slot grille, boxy body shape, upright windshield and upright rear hatch. Unlike its jelly bean-shaped competitors, Patriot's boxy shape translates to a more spacious feeling inside because the roof doesn't curl in. In addition, the vertical rear end allows more cargo inside and better sheds snow and ice in the winter. Overall appearance of the Patriot has changed little since model year 2011.
Jeep Patriot and Jeep Compass share much of their engineering and dimensional differences amount to only a couple of inches. However, variations in design details are enough to give each of those models a distinct character. A bit of additional height on the Patriot is especially noticeable.
Patriot Latitude features more bright trim, but we think the body-color trim of the other models is more visually appealing and more befitting a Jeep.
Tow hooks and roof-rail crossbars are optional. We'd prefer the fog lamps to be farther apart, but that observation falls into the nitpicking category.
Although it's acceptable for trucks and genuine four-wheel-drive vehicles to have lots of mechanical bits visible underneath, it's less desirable in a compact crossover. To that end, the rear bumper on the Patriot is quite deep and almost totally hides the muffler, which looked like a large industrial afterthought on early models.
Patriot is considered to be a compact SUV, though it looks larger. With a lot of space between front and rear wheels, and overall length less than 15 feet, the lack of bodywork beyond the wheels adds dimension and improves backcountry accessibility. It's only a couple of inches away from identical height and width, and the Patriot's ground clearance matches that of many heavy-duty pickup trucks.
Patriot Sport wheels are 16-inch steel. Attractive 17-inch aluminum wheels are standard on Latitude and Limited models, and optional for the Sport. The Patriot looks much better with the aluminum wheels. In wintry climates it's useful to have both, with winter tires on the 16-inch steel wheels, summer tires on the 17-inch aluminum wheels.
Interior
A high seating position gives the Jeep Patriot driver a commanding view of the trail, the street, or the highway. A surprisingly comfortable driver's seat provides massive headroom, good thigh support, but so-so back support.
Patriot Sport's front seats have manual adjustment and come with cloth upholstery. Patriot Latitude has heated cloth seats, which we prefer for four-season comfort. Patriot Limited gets leather-trimmed upholstery, which might amount to overdressing the Patriot but it adds an inviting bit of class and is better for dog hair.
Rear occupants endure harder cushioning than those up front, but have plenty of space to stretch out. The center rear spot would be acceptable, except for a huge front console that protrudes into the rear foot area.
The cabin layout is functional and roomy. The dark dashboard and instrument layout is simple, and the gauges are a tidy white-on-black with glowing orange needles. The speedometer is small, however, with small numbers, it's not so easy to read unless it's illuminated.
The door handles are easy to use. Soft-touch panels line the tops of the doors, and their pockets have clean edges. The three-spoke steering wheel has integral cruise and audio controls.
Audio controls are easy to understand and operate. Jeep says the available Uconnect Tunes system can hold up to 6700 songs, which can be ripped from a CD or USB memory stick. We thought the doors sounded somewhat tinny when they were closed.
Simple climate controls continue the uncomplicated approach taken in the Patriot's interior. A small but high-mounted information screen sits on the instrument panel, ahead of the driver. The Patriot's hand brake is strictly mechanical and practical, in stark contrast to the electronic brakes that have appeared on so many models.
Cubby storage consists of a nice tray over the good-sized glove compartment, which is big enough for books. The space between the front seats includes a nook for change or cell phones, plus two fixed cupholders. The center console is split for two levels of storage and is padded. Door pockets are on the small side, but they can hold six CD cases; much of the space is taken up by the 6×9-inch speakers.
The rear seat is split 60/40 and folds flat easily. Simply flip up the seat cushion and flop down the seatback. Reclining rear seats are optional. Upper-level models get a flat-folding front passenger seat. With the rear seats folded flat, there's a spacious 53.5 cubic feet of cargo capacity. Fold down the passenger seat, and the Patriot has room for an object eight feet long. With all seats in use, there's 23 cubic feet in the back, comparable to the space in any compact SUV. There's a nice cargo cover, though using it would significantly limit the storage space below.
The hatch glass does not open separately, but the hatch isn't heavy. Removable carpeting lines the cargo-area floor and hides a real full-size spare tire underneath, on most models. That cargo deck is a relatively high 30.7 inches off the ground. The maximum cargo height opening is 27.4 inches. Taller people should watch their heads when beneath the open hatch.