2015 Jeep Renegade Driving Impressions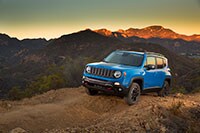 The Jeep Renegade drives like a small European car, firm, fun and willing if not the fastest thing around. Removing weight works as well for cute-utes and off-road vehicles as it does for full-size pickups and two-seat sports cars.
Renegade isn't the lightest in its class but it's hundreds of pounds lighter than a Cherokee and feels just as stiff and solid as that and the Grand Cherokee.
The turbocharged 1.4-liter engine and 6-speed manual make a good pairing, with 160 horses if you want to rev it out and 184 lb-ft of torque from a leisurely 2500-rpm upwards the other 99 percent of the time. Shift and clutch effort are light, the action par with competitors. You'll be more likely to miss the handbrake with the manual than with the automatic. Manual gearbox ratios are set for fuel economy so once past the first three gears, acceleration rates taper, but it loafs long in sixth gear and the good midrange power from the engine mean you might not have to downshift for grades.
Limited and Trailhawk come standard with a 2.4-liter and automatic that's optional elsewhere. The 2.4-liter engine makes 20 hp more but less torque than the turbo, both at higher rpm, so it feels noisier and not much quicker despite having three more gears. The 9-speed (yup, 9, four of them overdrives) worked smoothly for the most part, made downshifts on demand and you probably won't notice how often it changes gears. With just one person on board we found a 4×4 Limited needed at least 63 mph showing before it would go into ninth gear.
EPA ratings were not set when this was published. On two-lane highways running 40-70 mph we averaged 27 mpg in a front-drive 1.4 and 24 mpg in a 2.4 all-wheel drive. Attribute that more to the larger engine, added luxury equipment and weight of the all-wheel drive system, not added drag.
Most models badged 4×4 get all-wheel drive. Selec-Terrain has different modes for different surfaces. Leave it in auto and you'll be fine as it does its thing constantly and transparently to the driver. Choose snow, sand or mud as you wish. We found sand gave us a little more leeway being hooligans, but the trucklet will manage if you don't.
Trailhawk is the only Renegade you'll want to do most Jeep things in, with slightly taller, deeper treaded tires, more clearance underneath and at the edges, skid plates lest you drag over something, a rock mode in Selec-Terrain and real tow hooks if you venture way too far. Trailhawk's shorter axle ratio (20.4:1 overall versus 17.6:1) is what the Low button engages, and why, unless under heavy throttle application, the Trailhawk starts off in second gear rather than first. Hill descent control is as good or better than a pro-driver at the wheel for controlling downhill speed on tenuous surfaces. It will not go anywhere any other Jeep vehicle will, but it will go further off a highway than anything in this class.
Fully independent suspension and Koni FSD shocks deliver excellent body control and a reasonable ride. It doesn't ride as soft as larger CUVs such as a Honda CR-V or Nissan Rogue but it doesn't punish you or skitter about on rough pavement either. We'd say the target skewed more to the fun-to-drive side than outright smoothness, a tradeoff we happily accepted on pavement, slow rough stuff or brisk-pace dirt roads.
Electric-assist steering is easy to maneuver and the big-wheel Trailhawk turns a bit tighter than the others. The steering isn't fast but is precise, a nice combo to have navigating slowly through the woods. We can't say we pushed the brake system to its limits but winding passes were dispensed with drama-free, and the ABS and hill-descent were notably quieter than some we've sampled.
Road noise is well controlled and the big mirrors only begin to generate wind noise at interstate speeds. The low window sills allow low mirror mounts so they don't block the view. All offer or come with a rearview camera.
Renegade offers two safety packages of equipment not even offered in some class-larger products: blind-spot and rear cross-path warning, vehicle alarm and keyless entry/start, forward collision warning with collision-mitigation braking, lane departure warning with correction (both with adjustable parameters) and rear park sensors. We had no issues keeping the six-foot wide Renegade in a 12-foot-wide lane, but your insurance company may approve.