2015 Jeep Renegade Introduction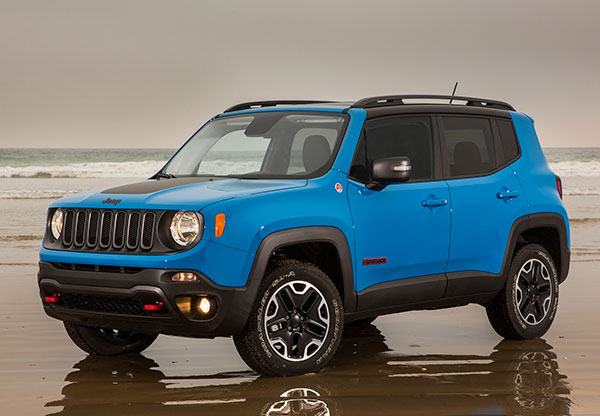 Jeep Renegade is the newest entry in the burgeoning small compact crossover utility market. Renegade is built in Italy and comes imbued with the emotion and characteristics you might expect. It has a unique look, as do the Nissan Juke, Kia Soul, and Mini Countryman it matches up with, and infectious let's-go-for-a-drive manners. But it also has room for real people front and back, decent cargo space and attractive pricing and fuel economy.
Upright styling pays dividends in outward visibility, cargo space and ease of entry/egress, all in a footprint less than 14 feet long. And all that space is filled with shapes and features, large and small, to evoke memories of the original Jeep. It borders on getting carried away, but Mini does the same with ellipses and such.
Renegade's cabin fits four adults or a couple and three kids or midsize canines across the back. Removable roof panels cover both rows of seats and stow under the cargo floor. Luggage space compares to that behind the third row in many crossovers, while there's more than 50 cubic feet behind the front seats and the right-front folds for longer items.
Materials and finishes fit the class, except the Jeep Renegade covers the range from entry-level (cloth seats, no AC) to luxury more like a Buick Encore: heated leather seats and steering wheel, dual-zone climate control, reconfigurable dash display, and so on. Some Renegade interiors offer multi-color leather and brightly finished trim pieces.
Electronics are up to date, the top level employing your smartphone for Yelp search, on-demand Wi-Fi and so on, in Fiat Chrysler Automobile's easy-to-use Uconnect system. Renegade also offers safety systems not available on some vehicles a class larger, including forward collision warning with automatic braking and lane-departure warning with correction. Better yet, you don't have to buy the most expensive model to have the option.
Two powertrains are offered, a 1.4-liter turbo with 6-speed manual and a 2.4-liter four-cylinder with a 9-speed automatic. Upper trims get the 2.4 and it's offered on lower trim, but the 1.4 manual is arguably more entertaining and quieter, and probably more efficient. Renegade isn't fast but it'll keep up with traffic, hills and on-ramps.
Ride comfort is acceptable and the handling quite good. From big heaves to hairpins the Renegade was controlled and stable during our test drives; with the right settings and buttons pushed it was downright fun on winding dirt roads and more engaging on the pavement than most. Engine, road and wind noise are quelled sufficiently for road-tripping.
The Nissan Juke in NISMO trim and Mini Countryman S may match the Renegade's driving fun, the Kia Soul its emotional and stylish appeal, the Buick Encore Limited version, and the Chevrolet Trax its value proposition or fuel economy. Also due this year are a Mazda CX-3 we anticipate will be at least as fun to pilot, the Honda HR-V undoubtedly a utilitarian and efficient contender, and the Fiat 500X derived from the same base as the Renegade. None of them will head off the beaten path as handily as a Renegade Trailhawk.