2015 Kia K900 Driving Impressions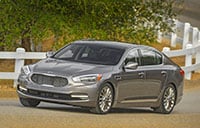 As the first to arrive, the V8 is so far our only experience with the Kia K900, but if you like the package and are considering the V6 you could do the engine comparison driving V6 and V8 versions of a Hyundai Genesis. All of our experience is based on K900 V8 VIP models.
The 5-liter V8 is near-silent until given the boot, offering up 420 horsepower with which to test the limits of traction. Slightly smoother than the V6, the V8's biggest advantage isn't the 109 extra horsepower, it's the torque that by 1500 rpm is already ahead of the V6's maximum output. Extra costs include the purchase premium and 3-4 mpg lower EPA ratings than the V6.
An 8-speed automatic is the sole transmission offered. It works well as a luxury conveyance but needs a good prod of the gas pedal to get into the meat of the engine's thrust. The dynamic driving mode lessens that need somewhat, but shifting doesn't feel as fast as the German triumvirate.
K900 is rear-wheel drive; there is no all-wheel drive available.
A V8 K900 is no slouch, able to echo its Smoky Blue color simply by defeating traction control and roasting the back tires. The suspension is tuned more for comfort than agility and the hydraulic-assist steering is direct with a bit more feel than many electric-assist arrangements, the entire package a nice drive that doesn't mind taking the winding road. Cruising down an interstate it's all quite serene.
If the winding road isn't favored it could be because of weight, the K900 V8 tipping in at more than 4500 pounds. At 52 percent on the front axle, the K900 V8 is reasonably well balanced, but only European cars with AMG or M or RS in their nameplates do well to make weight like that feel much lighter, and they all cost a ton more. There is no getting around the rear-wheel-drive K900 V8 weighs almost as much as an all-wheel-drive long-wheelbase Audi A8 or Mercedes-Benz S-Class, more than a V8 rear-wheel-drive BMW 7 Series and more than 300 pounds more than a long-wheelbase Lexus LS.
Where the K900 does not compare to some of its intended targets is in suspension adjustability, most competitors offering systems that allow a softer or firmer ride. The K900 does not use air suspension, active antiroll bars or torque-biasing differential, so while the others may go faster and ride better (or both), they feel more like a computer is piloting than the K900. One or two big awkward bumps brought more impact to the cabin than many competitors would.
There's a good view from any seat, the driver's augmented by a backup camera and front camera that remains on at low speed, blind-spot warning and adaptive headlights. Higher-trim models also have surround view camera, a full-color head-up display and adaptive cruise control with full-stop and a vibrating seatbelt warning if audible and visual warnings go unheeded.