2015 Kia K900 Introduction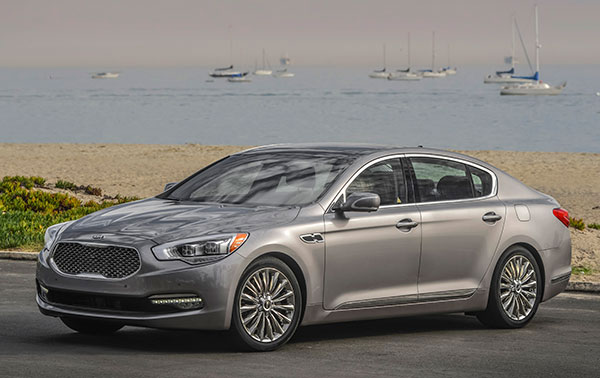 The Kia K900 is Kia's first rear-wheel-drive luxury sedan brought to the North American market. Proven in the home market where it's called K9 (like Audi A6, etc.) it comes here wearing the K900 alphanumeric moniker favored by most competitors. It isn't twice as good as a Lexus 460 nor nearly on par with a Porsche 911 but it makes a compelling argument for room and gadgets–per-dollar.
The 2015 Kia K900 will be available with a 420-hp V8 engine and a 311-hp V6, though the V6 joins the lineup a few months after the V8. Every K900 comes with fully independent suspension, rear-wheel drive, 8-speed automatic transmission, leather upholstery and three-zone climate control. Derived from the same basic structure as Hyundai's Equus flagship, the K900 is shorter than that car outside but roomier up front. We liken it to the relationship between Rolls-Royce and Bentley, where the Equus (Rolls) is the owner's driven car and the Kia (Bentley) is driven by its owner.
Family resemblance is obvious, the K900 appearing for most intents and purposes a slightly larger Cadenza with the bulk of bodywork slid rearward a few inches. We find it handsome enough, though the only styling elements that really stand out are the 2×4 LED headlight arrays. Save the backup lights, every light on a K900 is LED.
Inside it's all leather, wood and chrome highlighted black lacquer finishes. The carpet actually feels like one, the mats are thick, lower door pillars are not hard plastic and the scuff plates are illuminated. Room is abundant, generally more than a mid-size or standard-wheelbase luxury car, not quite as spacious as long-wheelbase luxury rides.
Kia heaps on loads of standard features as well, including their extensive warranty and things like heated rear seats that are $600-$800 options on pricier competitors. And there is one option package for the V8 model, not an endless a la carte page that can add 50 percent to the price at the check of a few boxes.
The K900 does not offer air suspension, adjustable ride firmness or other whiz-bang chassis electronics, instead relying on a capable, quiet, cruiser chassis. Other cars may ride better or handle better, or do both, but they'll cost significantly more, a K900 V8 is $13,000 less than a Lexus LS460, $14,000 less than Jaguar XJ V6, $15,000 less than Audi A8 V6, $18,000 less than a six-cylinder BMW 740, and $33,000 less than a Mercedes-Benz S550.
We won't directly compare a K900 to those cars but the room is similar, the luxury ambiance close. What you give up is a degree of refinement, anything from how quiet and smooth the seat adjuster or trunk closer is, to how well it absorbs a mid-corner bump diving into a corner. But if you don't drive it like a hot-rod sports sedan, and don't actually notice things like seat motor sounds, does it make any difference to you?