2015 Kia K900 Walk Around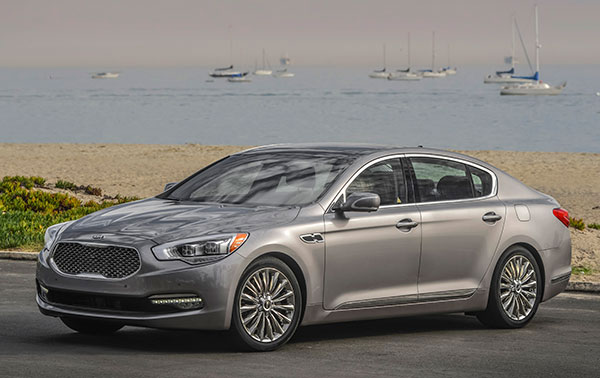 The Kia K900 comes across as a larger version of the Kia Cadenza with the weight shifted slightly aft on its wheels. Luxury cars are all about material between the front wheels and dashboard, and while the K900 has more of that than the Cadenza, the longer, sleeker front overhang doesn't have the bluntness of a Rolls-Royce or 7 Series. A rear side window dimension nearly twice the length of the front illustrates the priority here.
In profile the chrome lower door strip slopes down markedly in front mirroring the rear door angle at the other end. The front fender vent is actually a dummy, purely cosmetic, and the haunches remind of Infiniti's ex-G now Q50 sedan.
V8 models use chromed alloy 19-inch wheels, wider in back than front; V6 models skip the chrome on 18-inch wheels like-size all around. That and badging (and headlights) are the main exterior distinctions between V8 and V6.
Kia's family grille outline houses chrome lattice-work, the single lower grille aperture more luxury car than sports sedan. LED running and fog lights come on all models, and the V8 gets distinctive LED headlights; only the back-up light bulbs are not LED.
A short decklid that powers open and closed from the driver's seat hides about 16 cubic feet of trunk space, more than an Audi A8, not as much as a Lexus LS 460. With trapezoidal exhaust outlets, tube and rectangular lighting elements and a modicum of chrome, anyone not reading badges may mistake the tail for a BMW, Lexus or maybe even a Hyundai Genesis.
Interior
Big chairs, cushy leather upholstery, soft-touch panels, suede headliner, plenty of wood and gloss-black with chrome accents, dense floor mats and a slew of features impart a luxury car ambiance. Overhead assist handles are leather wrapped, the pillars covered in materials that won't rattle vacant seat belt buckles and there is plenty of room.
Black upholstery generally goes with a more traditional wood finish, while the cream leather cars use a dark charcoal burled finish; the latter perhaps more contemporary but will show dirt much earlier. Both colors use a light-gray headliner and full-length moonroof for spaciousness, the latter with a genuine power shade rather than a semi-transparent screen or net.
With a driver's seat cushion that lengthens from the rear and power adjustments from tilt/telescope wheel to the headrests most people can find a proper, comfortable driving position. The wheel controls are logically arranged and easy to use, but the black lower trim section, especially on the walnut-trim cars, gives an awkward two-spoke appearance.
VIP cars use a TFT instrument cluster with clear, Volvo-like fonts on digital representations of analog displays. There's some needle ratcheting when they move quickly, and in dynamic drive mode they revert to big digital readouts with small bar graphs rotating clockwise around the speedometer and counterclockwise around the tachometer. It's a counter-intuitive arrangement for quick glances dynamic mode would imply.
The far left switch bank has blind spot, park sensors, traction off and trunk open/close all adjacent with some indicator lights on the switch and some in the dash. Beware you don't accidentally hit the wrong one dropping someone with luggage.
A 9.2-inch display handles all infotainment chores, not affected by polarized shades or sunlight washout; some found the full-color head-up display affected by polarizers but we did not have any issues with it. Below that are climate controls framing an analog clock, and basic find-fast audio controls. The 17-speaker, 900-watt Lexicon sound system covers all media including DVD audio and sounds very good, though we'd say Lexus 19-speaker 450-watt system is at least as capable.
To avoid a long reach to a touch-screen, a center console controller with seven hard keys runs the infotainment display. Once we remembered the tabs forward of the controller correspond to those on the bottom of the screen we got what we wanted out of it. Kia's UVO system with eServices (telematics including but not limited to auto 911 connection, curfew alert, geo fence and maintenance reminders) is standard but no situations arose where we needed it.
As the controller mimics Audi's MMI and BMW's iDrive, so does the stubby spring-loaded shifter. We found it no more or less frustrating than the others' and note the forward-upshift, backward-downshift motion since there are no steering wheel shifter buttons. Curiously, drive mode, parking brake and auto hold switches are in the shifter frame while snow mode is further back next to the camera switch.
Rear seats are quite comfortable, especially with the VIP pack's ventilated, power recline and winged headrests. Manual side and power rear shades are standard, as is rear climate control, and al the controls are in the center armrest. We'd call the proportions mid-way between a standard-wheelbase competitor from Lexus, Audi, or BMW and their long-wheelbase brothers and the S-Class, spacious enough for a 6-foot, 3-inch rider to recline in back behind a 6-foot navigator in front. The only thing that seems out of place is the black center armrest latch on the cream upholstery background.
Laminated side windows front and rear help make the K900 very quiet, and the rear cabin feels even quieter than the front. However, we have found road surface and tire choice make a much bigger difference than which luxury car you're in.