2015 Kia Sedona Introduction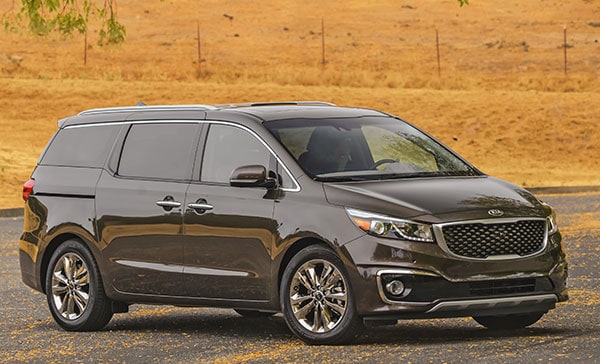 The 2015 Sedona is Kia's response to a minivan market that has been shrinking steadily over the years in response to the growing popularity of crossovers (CUVs) as well as the peculiar stigma with which minivans seem to have been afflicted. This negative-image issue appears particularly pronounced among men, who somehow feel their masculinity is called into question by the family-life connotations of a minivan.
Even the actual number of players is reducing: three more minivan models go away this year. Paradoxically, minivan distribution has become what Kia calls bi-modal. They are being purchased just about as much by so-called empty-nesters (couples whose children have already left home) as they are by young families.
And you can see why. These vehicles offer extra seating capacity for two- or three-couple dinner outings as well as for growing families. Access is generally better than in other vehicle styles, luggage space is flexible and large, and the driving position is higher than in conventional sedans.
This in mind, Kia has decided to continue to go after the bi-modal buyers, but has shifted the new Sedona's styling emphasis in the direction of the crossovers. There are still sliding side doors, with the prominent slots that Toyota's Sienna has craftily eliminated, which may have most people identifying it as a minivan rather than as the multi-purpose vehicle that Kia personnel prefer to have it known.
Still, with an overall length some 1.6 inches greater than before, and with shorter front and rear overhangs, the 2015 Kia Sedona does look something like the big crossovers that have been steadily poaching minivan sales.
With the new look of the 2015 Sedona comes a new engine: the 3.3-liter direct-injection V6 also fitted to the Kia Cadenza and Sorento, boasting better power and torque characteristics than the 3.5-liter V6 it replaces. Kia claims the new body has 36-percent-greater torsional rigidity than that of a Honda Odyssey. Add independent rear suspension revised for better isolation, amplitude-sensing dampers, and an elaborately insulated passenger compartment, and it's clear that the engineers were looking for a smooth and quiet ride.