2015 Kia Soul Introduction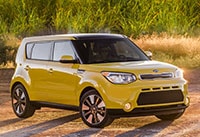 Fresh from a complete redesign for 2014, Kia Soul continues as one of the best boxy compacts on the market with its unique design, comfortable ride and roomy interior. The 2015 Kia Soul lineup continues to offer a choice of four-cylinder engines.
New for 2015: Kia Soul EV, an all-electric vehicle with a range of up to 93 miles. It's powered by a 109-horsepower electric motor, which makes a hearty 210 pound-feet of torque. The Kia Soul EV has distinct visual differences such as exclusive paint colors, white exterior and interior trim. Unique 16-inch wheels are wrapped with super low rolling resistance tires for added efficiency. The 2015 Kia Soul EV is EPA-rated at 120/92 City/Highway, or 105 Miles Per Gallon Equivalent (MPGe). The 2015 Kia Soul EV will be sold exclusively in California.
Kia Soul features a boxy shape with softened lines compared to pre-2014 models. The front end's tiny upper grille and a giant, mesh-covered lower grille make the Soul look grounded and hunkered down. Round accents, such as its foglights, add contrast to the Soul's boxy shape.
Inside, Soul has a unique circular theme, seen in the center stack and echoed in the air vents (with nifty round speakers that sit on top), the driver instrument cluster and the gearshift surround. Soul EVs get a dedicated display that shows battery life and projected range.
Models equipped with navigation use a system powered by Android, while those without nav use the Microsoft-powered UVO voice-recognition and handsfree system. A mobile app for Kia's UVO eServices allows owners to access vehicle diagnostics, saved points of interest and trip information from a compatible Android or Apple smartphone. Drivers can request roadside assistance and dealer appointments, and save the location where their vehicle is parked using the UVO eServices app. A separate app for the Kia Soul EV allows drivers to remotely lock or unlock the car, start or stop a charge, and provides directions to the nearest charging stations.
The standard Kia Soul is powered by a 1.6-liter engine that makes a modest 130 horsepower and 118 pound-feet of torque, available with a 6-speed manual or a 6-speed automatic transmission. EPA fuel economy ratings are 24/30 mpg City/Highway with either gearbox.
More fun and more powerful is the 2.0-liter inline-4, good for 164 hp and 151 lb.-ft. of torque, available only with the 6-speed automatic. Fuel economy, perhaps surprisingly, isn't that different, with an EPA rating of 23/31 mpg City/Highway.
Both models run on Regular gasoline, while some competitors like the Fiat 500L and Mini Cooper Countryman require more-expensive Premium gas.
The Kia Soul is a fun car, great for tooling around in the city, and on mid-range road trips. There's plenty of room to carry gear, and the back seat will fit two or three in relative comfort for a compact vehicle. But it's not a car you get for its driving dynamics. With moderate acceleration, numb steering and relatively harsh ride, the Soul isn't by any means a performance vehicle.
Kia Soul is a unique player at a time when some automakers are discontinuing their boxy cars to focus on compact crossovers (the Nissan Cube, for example, is discontinued for 2015). As such, there are few direct competitors. Other versatile vehicles with a similar footprint include the Fiat 500L, Mini Cooper Countryman, and compact SUVs like the Honda CR-V, Toyota RAV4, and the forthcoming redesigned Nissan Juke.