2015 Lexus LX 570 Driving Impressions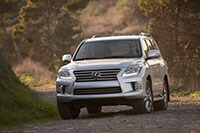 The Lexus LX 570 is smooth, quiet and untroubled. It's composed and relaxed at higher speeds. The commanding view from its height, combined with the lack of noise and vibration, combine to create the sensation of a protected cabin, and a sense of well-being.
The 5.7-liter V8 is the same 383-horsepower engine used in the big Tundra pickup truck. It makes a ton of torque at low rpm, so the LX moves out readily at part throttle. More than 90 percent of its maximum 403 foot-pounds is available before 2200 rpm, so most of the time the engine just loafs.
The 6-speed transmission has a low first gear, useful for towing. At the top end of the transmission, both fifth and sixth gears are overdrives, with 72 mph coming at 2000 rpm.
Poor fuel economy is the price of power and weight, not to mention tall box-like aerodynamics. The LX 570 is EPA rated at 12 mpg city and 17 mpg highway. We got 13.4 mpg in hilly city and 72-mph highway driving for a week.
Drawing from its Land Cruiser heritage, the LX has the guts of a true 4×4. In bad weather it comes into its own, with a Torsen limited-slip center differential biasing torque to maximize traction. The four-wheel-drive system has four modes, actuated by a toggle switch on the center console. It's possible to lock the center differential in high or low range, or leave it open in either range. Normal use is the unlocked high mode. When the going gets really bad, locking the center differential gives more traction, while low range is for extreme challenges, for example deep sand, mud or snow, or boulders to cross.
Low range can be supported by Crawl Control with Turn Assist. On steep downhill trails, a driver can take his feet off the pedals and crawl control will do the rest, performing perfect magic on the brakes to maintain a set low speed. Turn Assist helps tighten turning by braking the inside rear wheel so the vehicle pivots a bit.
The Lexus LX also uses electronic traction control (A-TRAC) to prevent wheelspin. We have considerable experience with A-TRAC and it's always provided enough traction for our unplanned events. Selectable (if not planned) modes include Rock, Rock and Dirt, Mogul, Loose Rock, or Mud and Sand.
The Lexus LX suspension offers both a smooth ride and steady cornering. Some vehicles in this class use air suspensions, but the LX uses more traditional and coil springs, with an Active Variable Damping System (AVS) that controls body pitch and dive. We had a chance to drive the LX with spirit over some mountain roads. In Sport mode, the suspension stays on an even keel during enhanced acceleration and braking. The brakes are big and powerful, ventilated discs with Brake Assist and Electronic Brake Force Distribution to balance braking on slippery surfaces.
A switch on the dash selects Sport, Normal, or Comfort suspension damping. Comfort was good most of the time, and there wasn't much difference at Normal; but we could really feel the Sport mode, especially in switchback curves.
Maneuvering a big SUV can be challenging. Parking is made easier by variable gear-ratio steering, needing less effort steering at slow speeds. The challenge with the LX is visibility; it's hard to see the front corners, and the rear headrests get in the way out the back window.
But that's what cameras are for. There are cameras in the grille and passenger sideview mirror, with the otherwise blind spots revealed on a screen. There are also sensors to warn of objects near the corners of the car. It all makes parking easier, quicker and safer.
At the other extreme from mall parking, we hitched up a 7,000-pound trailer and found the engine and transmission had no trouble hauling the load up hills. There's a manual mode for the 6-speed automatic, but we didn't need it that much, not even downhill, where the transmission will downshift on its own to slow the rig. The uphill/downhill shift logic felt good to us, responding to subtle throttle inputs.
A Pre-Collision System is optional. It uses radar to determine if a crash is imminent, in which case it hits the brakes to slow the vehicle, and tightens the seatbelts. However, we are hearing reports of these systems going off on their own. Driving down the freeway at 65 mph, and your car slams on the brakes for no reason; it happened to us at night in a Volvo XC60. We know of no cases where it's happened to a Lexus LX.