2015 Lexus NX Introduction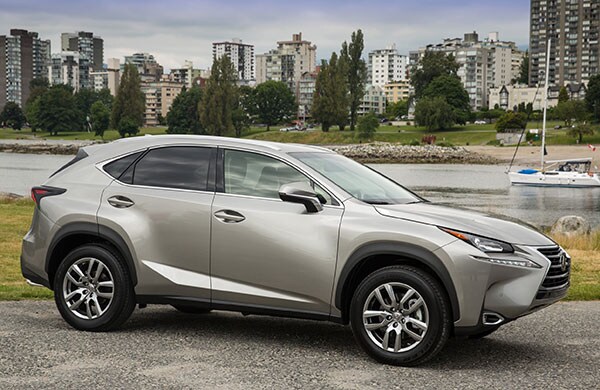 The Lexus NX, a new luxury compact crossover SUV, is 5.5 inches shorter than the midsize Lexus RX, with styling that's more edgy and futuristic. It's intended to capture young and well-off buyers who have never owned a Lexus, by making them feel cool like no other Lexus SUV does. Although the Lexus NX is shorter than the RX, it's an eye-popping and button-popping 9.7 inches wider and 1.5 inches lower, and there's an F Sport model with body tweaks that take it farther.
The NX uses a new 2.0-liter turbo engine, the first turbocharged engine for Lexus. Inspired by performance vehicles, the 2015 Lexus NX unites the engineering input of racers, says Lexus, as four of the main Japanese engineers have racing backgrounds. The engine designer's previous project was the incredible lightweight 4.8-liter V-10 that's in the LFA supercar, all 552 horsepower and 9000 rpm.
The 235-horsepower Lexus NX engine strives to achieve fame in the real world, with a water-cooled cylinder head, integrated exhaust manifold, and twin-scroll turbocharger. It uses an advanced valve control system to switch between Atkinson cycle and Otto (standard) cycle to optimize performance and fuel efficiency. It makes 258 foot-pounds of torque from 1650 to 4000 rpm, and 17 psi of boost, say the specs. It's EPA-rated at 21/28 mpg City/Highway with all-wheel drive, with 91 octane fuel. The engine will appear in future Lexus models.
There is also a hybrid-powered model, the NX 300h (the sixth Lexus hybrid), making 194 combined horsepower with its two electric motors. An all-wheel-drive hybrid model has a third electric motor to drive the rear wheels when it's slippery. The NX 300h is EPA-rated at 33/30 mpg City/Highway with all-wheel drive, on 87 octane.
We found the performance of the 2.0 turbo good but not neck-snapping, with a 0-60 mph time of 7.0 seconds according to Lexus (the hybrid is 9.1). There's an all-new 6-speed sequential automatic transmission, that, even in sport manual mode, doesn't shift as sportily as might be expected in a car having such boasts behind it.
The Lexus NX was designed to be capable for light duty on the trail, with its wide stance for increased ramp-over angles. The C-pillar is angled to optimize internal storage width, allowing four golf club bags to fit sideways in the cargo area. The sides of the edgy NX are bursting with character lines (more like character edges, slopes and cliffs), and the lines work. The headlights are cool pinched sharp trapezoids, while the DRLs under the headlamps are thin wide elegant check marks.
The base Lexus NX 200t model isn't as cool-looking as the F Sport. The F Sport has more nimble steering and a firmer suspension that rides just as comfortably. Pricing wasn't announced at the introduction in July, so it's not known how much the F Sport will be, but it feels like the one to buy, for its superior looks and handling.
Comparables in the near-luxury compact SUV category might include the BMW X3, Jeep Cherokee, and Acura RDX, all within 1.5 inches in length. Only the Cherokee, all new in 2014, looks cool, and it's by far the least expensive.
The driver's cabin might be the best thing about the NX. Layout, organization, function and materials are all excellent. The F Sport's injection-molded seats are brilliant, and the instrument panel is almost perfect, chock full of clear icons on buttons. There's a popup screen on the dashboard, whose functions are managed via a mouse thing that Lexus calls RTI, Remote Touch Interface.
The suspension and handling is like the engine and acceleration, good enough but not terribly exciting. The ride is comfortable and never harsh, while turn-in is okay but not really sharp. On rippled bends it's basically secure but not exactly confidence-inspiring, as it wants to roam. When we found some perfectly smooth corners, the handling was perfectly comfortable, being more at home.
The 200t is less responsive. It feels heavier, steers slower, rides softer, and stops less quickly.