2015 Lexus RC Introduction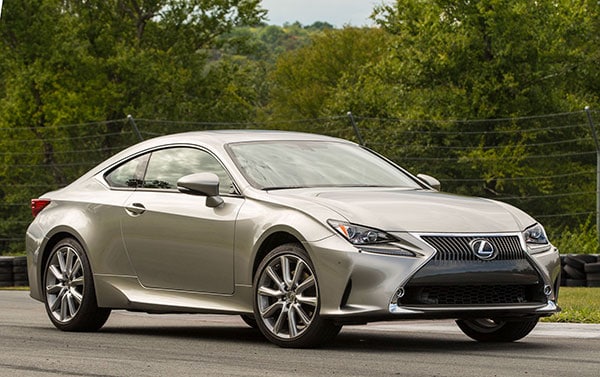 The Lexus RC is a sleek new sport coupe with eye-catching styling. Only available as a two-door, RC is based on a new rear-wheel-drive platform but is available with all-wheel drive. Rear-wheel drive generally offers sportier performance than front-wheel drive. An uber-powerful RC F performance model replaces the outgoing four-door IS-F as Lexus's sportiest vehicle.
Two models comprise the 2015 RC lineup: the Lexus RC 350, powered by Toyota's 3.5-liter V6 engine good for 306 horsepower and 277 pound-feet of torque, and the low-volume, high-performance RC F, with a 5.0-liter V8 engine that cranks out an impressive 467 horsepower and 389 pound-feet of torque. Both engines are naturally aspirated; no turbocharged choices here, unlike some competitors.
Lexus also snubs the manual transmission for automatics only. The RC 350 rear-wheel-drive model and the RC F gets an 8-speed automatic, while the RC 350 with all-wheel drive is equipped with a 6-speed automatic.
The 2015 Lexus RC was essentially created from three existing Lexus architectures, including the GS and IS sedans, as well as parts from the IS convertible. The RC 350 will make up the vast majority of RC sales.
Chassis rigidity was a top priority for Lexus engineers, who were able to stiffen the chassis using underbody reinforcements and strategic placements of spot welds and body adhesive. Combined with its double wishbone front suspension and a rear multilink setup, the result is a firm, planted car that can handle aggressive driving on the street or track with near-perfect composure and very little cabin noise.
At first glance, the RC can be recognized by its large, hourglass-shaped spindle grille, which bears a family resemblance to both the IS and GS sedans. The RC F's black mesh front grille emphasizes the height and width of its gaping maw, looking like it might just swallow any car that gets in its way. The RC F also gets additional aerodynamics.
Inside, the cabin design is unique but polarizing, with a sharply curved dash on the passenger side that mimics the RC's sharply curved front end, and a slanted instrument panel that is easy to reach, but unusual in comparison with other luxury cars. Front seats are comfortable and supportive, though rear seats will only carry small children or cargo, though this is normal for a sport coupe.
As a daily driver, the RC 350 provides a sporty feel with enough power to handle nearly any driving situation. The optional F Sport package for the RC 350 features a firmer, adaptive suspension, rear-wheel steering, different gauges and other performance goodies.
The RC F, on the other hand, is most at home on the track. Its powerful V8 makes acceleration effortless, and its big, capable brakes make stopping equally exhilarating. It also sounds amazing, especially in the cabin, thanks in part to a sound generator that pipes in engine sound.
Competitors to the 2015 Lexus RC 350 are few but mighty, including the Audi A5, BMW 4 Series, Mercedes-Benz C-Class coupe, and Cadillac ATS coupe. The Lexus RC F goes up against the likes of the Audi RS 5, BMW M4 and Mercedes-Benz C63 AMG coupe. While it might lack the prestige of a German marque, the Lexus RC is a good choice for those looking for a capable car that isn't as common on the road. And when it comes to track performance, the RC F not only measures up, but in a segment where other brands can tack on tens of thousands for options, the RC F can also offer a better value for the money.