2015 Lincoln MKC Introduction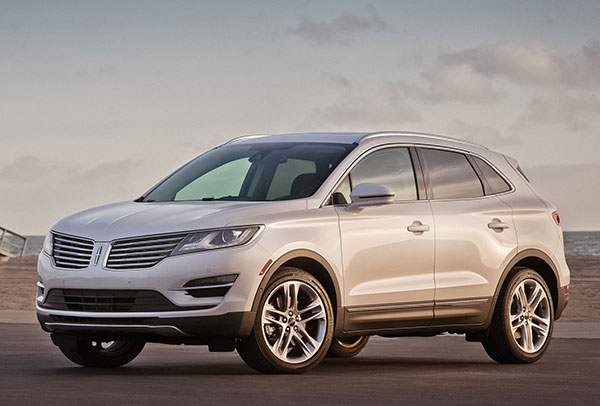 Lincoln MKC is a new model, very likely the first Lincoln less than 15 feet long. It joins the ever-expanding spectrum of compact crossovers taking over the luxury market.
The new Lincoln MKC is derived from the same basis as the Ford Escape. However, it is more than just new lights and adornment, with major chassis changes and an engine the Escape doesn't offer. That MKC shares some components with other Ford and Lincoln products means only they have been proven, and is no different than what Audi and Volkswagen or Toyota and Lexus do.
Distinctive looks inside and out help distinguish the MKC, and it welcomes at night more invitingly than most. We found build quality at least as good as that of its competitors, with real wood and aluminum trim, and leather often better than any challenger.
Technically, the new MKC seats five, but we think it is better suited for couples and families of four or fewer. Grown-up space in front is countered by a cozy rear seat, and cargo space is compromised by the styling, situations not unique to Lincoln in this class. By most dimensions inside and out, the Lincoln MKC splits the Audi Q3 and Q5 and the BMW X1 and X3. MKC is larger than the Range Rover Evoque. It's similar in size to the Mercedes-Benz GLK and Lexus NX, and a bit smaller than the Acura RDX, Cadillac SRX, and Volvo XC60.
Both four-cylinder engines available in the MKC are turbocharged; a 2.0-liter engine is offered with front-wheel drive or all-wheel drive, a 2.3-liter comes only with all-wheel drive. A V6 is not offered nor is it needed, the 2.3-liter is more powerful than an Audi Q5 V6, and offers more torque than any challenger's V6. A 6-speed automatic transmission is standard; there is no diesel or hybrid version.
Lincoln did not try to make a sports sedan of the MKC and that's a good thing, though it will hustle along a winding road if needed and it has a solid feel. MKC is quiet, comfortable and a great way to cast external stressors aside without being as numb as a couch.
Modern amenities are catered to with various device connections and work with the infotainment system. A THX II-certified 14-speaker sound system easily fills the cavern, a panoramic moonroof lessens claustrophobia in back, and safety systems include collision mitigation braking and adaptive cruise control. An MKC will steer itself into a parking spot, and unlike many, help you get out of it as well.
Besides slotting in size between its German competitors, Lincoln MKC aims to play the value card. Even at the base price it includes things like pushbutton start/keyless entry, HID headlamps, driver memory and park sensors that are often optional on challengers. Only an Acura RDX comes close in this regard, and while a loaded MKC can top $50,000 similar features elsewhere will cost at least as much.