2015 Lincoln Navigator Driving Impressions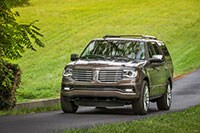 The Lincoln Navigator rides like a big, heavy vehicle, but not like a pickup. It need not be loaded to deliver a smooth ride, and in a similar vein, loading it does not degrade the dynamics. By classic SUV definition it is all utility, not sporty.
A twin-turbo 3.5-liter EcoBoost V6, adapted from the F-150, is the only engine. On premium fuel it rates 380 horsepower at 5250 rpm and 460 lb-ft of torque at just 2750 rpm, and on regular fuel 15-16 EPA city and 19-22 EPA highway miles per gallon depending on wheelbase and driven wheels. Many vehicles rate power on higher-octane fuel and mileage on lower octane, and a Navigator may be driven on regular unleaded. Escalade's 6.2-liter V8 makes 420 hp and 460 lb-ft of torque, at higher revs and deliver 14-15 city and 20/21 highway.
Don't let number of cylinders concern you since the V6 is more relaxed than the old V8, has a better exhaust note, and forced-induction V6 power is used by Mercedes-Benz, Porsche and Range Rover SUVs.
The 6-speed automatic sorts out gears and situations well, using the engine's deep torque curve to good effect and the power only when needed. It come in rear or all-wheel drive; the latter can be used on highway but does not include low-range gearing. Unlike the sister-vehicle Ford Expeiditon, Navigator axle ratios are chosen more for performance than fuel economy but it still lopes along at freeway speeds turning less than 2000 rpm. The engine makes little fuss, delivering effortless performance without racket despite three tons to haul around, but remember the EcoBoost tag is more an either/or proposition: If you're on boost making big power you're going to use gas.
Navigator is rated to tow from 8300-9000 pounds model-dependent, 200 to 700 more than Escalade. But take these numbers with a grain of salt since none are quoted to the industry accepted standard. Navigator weighs a bit more than the Cadillac but carries nearly 1600 pounds of cargo, people and tow ball weight on the most capable version. If you can keep your Navigator, trailer and any loads less than 15,000 pounds it should tow just fine.
Self-leveling rear suspension is standard and it's independent so there is no heavy solid axle to control underneath. Rough roads and bumps don't make the back tires want to skip or skate like a pickup, and headlights aren't astray in trees with a big load on board.
Most Navigators come with or can be equipped with Lincoln Drive Control, adaptive shock damping that offers sport, normal and comfort ride modes. Sport leans to the firm side, best if you're in a hurry on a meandering road with decent pavement. Comfort emphasizes softness, so much so that we'd recommend it only for sub-expressway speeds. Unless you know better and want to scroll through settings, leave it in Normal and Navigator takes care of what it does best. While Navigator always remained stable and predictable, this much mass this far off the ground isn't ideal for making quick transitions or late decisions so use the high seating and visibility to your advantage.
For 2015 electric-assist steering is used. Effort is very light at maneuvering speeds and ramps up a bit in motion, aiming the Navigator directly and isolating bumps road surfaces irregularities. Brakes feel fine but we'd use the transmission for speed control on steep surfaces; it has more engine braking than we expected.
Noise is generally well controlled, with wind noise from the mirrors beginning to seep in at freeway speeds and it can't compare to the Escalade's hushed cabin. Road noise depends heavily on tires and the Navigator offers a few choices; the 22-inch Pirelli Scorpion Verdes an all the vehicles we drove didn't stand out as noisy or quiet but no passengers will complain. Standard 20-inch tires are likely to be slightly better regarding noise and ride comfort, the ideal pairing 20s and the Lincoln Drive Control.
Relative its size Navigator is reasonably maneuverable. Slab sides, deep windows, park sensors at both ends and a rearview camera ease parking. The 43.9 feet a long-wheelbase Navigator L requires for a U-turn is typical for this size vehicle. The standard-length Navigator needs 39.0 feet to perform the same task, nearly five feet less.
Blind-spot and cross-path warnings gave no false alarms, though Navigator does not offer the active cruise control/forward collision alert and lane departure warning most competitors do.