2015 Mazda CX-9 Introduction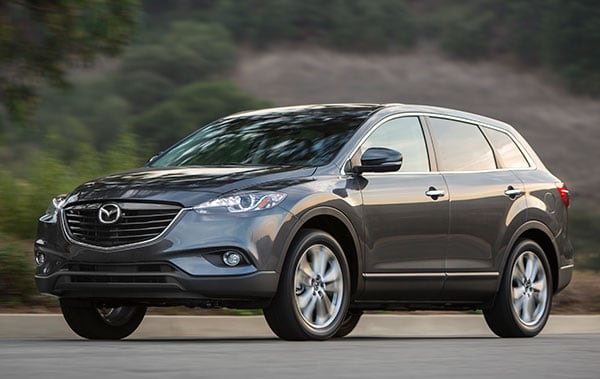 Mazda CX-9 is a midsize crossover utility vehicle with big cargo capacity and the ride and handling of a large sedan. It's a swift and stylish alternative to a minivan.
The Mazda CX-9 is a great people hauler. It can carry seven adult passengers, thanks to a third-row seat designed with adults in mind. It's easy for an older driver to get into the CX-9 because there's no need to climb up into it. Yet the seating position is high enough that the driver looks over at, not up to, drivers in big SUVs. We found the cabin surroundings handsome though not luxurious.
The CX-9 is available with front-wheel drive or all-wheel drive, providing a nice option for those who worry about snowy travel in hilly areas. Properly equipped, it is rated to tow up to 3500 pounds.
What sets the CX-9 apart are its sporty looks and the road manners to back them up. The CX-9 responds quickly to driver inputs, feeling surprisingly enthusiastic about travel on a serpentine two-lane road. A 3.7-liter V6 engine delivering 273 horsepower and 270 pound-feet of torque provides plenty of power. This refined, 24-valve power plant was designed by Ford and is built in Ohio before being shipped to Japan where the CX-9 is assembled. It works well with a six-speed, Japanese-made automatic transmission that can be shifted manually if the driver is interested in some frisky motoring.
First introduced for the 2007 model year, the CX-9 is aging. It has received updates through the years, but has not benefitted from a complete redesign. While it received the U.S. government's highest possible ratings (five stars) in frontal and side impact crashes upon its release, the front crash standard has become stricter and today the CX-9 gets only three stars in that test.
Changes for 2015 are minimal. The only change of note is the addition of a Recreational Accessory package that adds roof rails with cross bars, a cargo net, and a stainless steel rear bumper guard.