2015 Nissan Juke Driving Impressions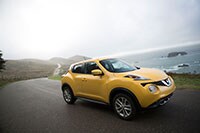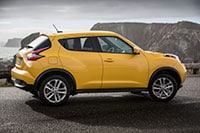 The Nissan Juke steers with accuracy and quick response in most conditions, and with standard 17-inch wheels wearing large-footprint 215/55R17 tires, it hugs every bit of the road. The turbocharger seems to cut in and out at times during mid-rpm cruise, but the 1.6-liter turbo four-cylinger accelerates convincingly up to 6400 rpm before the rev limiter gently chokes it. There's an exciting surge at 3500 rpm but less available torque down low. With a tall sixth step in the CVT transmission, 80 mph is a casual 2600 rpm. By comparison, the 1.4-liter turbocharged 2015 Chevrolet Trax is equally athletic.
The CVT is fine for around town, with smooth kick-downs and six sharp steps in manual mode, though the gap between second and third seems a bit too tall. It's not terribly obedient in manual mode, and a bit slow to figure out your driving technique in changing conditions, but it work well for a CVT. In Nismos, however, it steals some life from the spirited engine. We recommend the 6-speed manual to maximize driving fun.
The Nismo's available all-wheel drive does an excellent job of eliminating torque steer and understeer using torque vectoring, up to 50-50 front-to-rear and also between the left and right rear wheels as needed. It can rotate the vehicle through a curve and keep it tracking on the intended path. A downside to all-wheel drive is a smaller fuel tank because the AWD components need the space; only 11.8 gallons compared to 13.2 gallons in front-wheel-drive models, or about 40 fewer miles on a tank of gas.
The manual gearbox has its drawbacks, including some torque steer (sideways pull on the steering wheel under power), a less-than-crisp shift feel and more transmitted engine noise. Though, that last one may be a positive for some in the sport-cross Juke.
The I-CON system, standard in all but the Juke S, offers Normal, Sport and Eco modes that change the settings for engine, CVT and steering response. Sport mode makes the gas pedal more responsive, sharpens the CVT and quickens the steering. Eco mode gives much less response while the CVT works to optimize fuel economy and the steering gets duller. Don't expect quick acceleration in Eco mode, but it's great for light-footing around town or humming along at 65 mph on the freeway with cruise control set.
Any car with a short wheelbase will feel the bumps, and the Juke is no exception. Bumps generally not sharp or harsh, but they are plentiful, and the ride can be jouncy on even surfaces. A couple of hours on an uneven freeway, and you'll know it. But overall, the Juke rides reasonably well for its size and weight and is not uncomfortable on rough roads.