2015 Nissan Murano Driving Impressions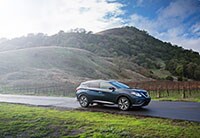 With its 3.5-liter V6, the Nissan Murano has ample power for most driving situations. The engine, which carries over from the previous generation, makes 260 horsepower and 240 pound-feet of torque, which is plenty for a midsize crossover, provided it's not loaded to the gills. The Murano has a tow rating of 1,500 pounds, though we'd say it's more suited to an evening on the town than a schlep to the campground.
What keeps the Murano from being a top performer is its continuously variable transmission (CVT), and although Nissan's CVT is better than some, it still has that characteristic elastic-y feel, causing the Murano to lag a bit behind when we needed instant response. The tradeoff, of course, is that CVTs are generally efficient when it comes to fuel economy, and helps the new Murano achieve what Nissan claims is a 20 percent improvement in mpg ratings.
Part of that fuel savings is also due to reduced weight, as the new Murano sheds 146 pounds compared with the outgoing model. That lighter curb weight also translates to a more nimble feeling on the road, which we experienced both in slow-speed, tight turns and fast, sweeping turns. Thanks also in part to the Murano's low-rolling-resistance tires and aerodynamic enhancements, the Murano is rated at 21/28 mpg City/Highway for both FWD and AWD models. That's a big win over the V6-equipped Toyota Venza and Lexus RX 350 AWD vehicles with their respective ratings of 18/25 mpg and 18/26 mpg City/Highway.
Ride quality is on the firmer side, especially compared to softer-tuned crossovers like the Lexus RX, but we found the Murano comfortable and compliant. Only a well-worn road littered with deep ruts and fallen twigs unsettled us, and even then it wasn't unreasonably rough. Otherwise, our AWD Murano SL felt smooth and secure while traveling highways and rural roads alike during a rare but welcome California rainstorm.
The electric-assist steering is comfortable around town and on the highways and is responsive, but not particularly communicative. Brakes are firm and confident, but not overly touchy. While some brands are moving toward adjustable driving modes that tweak steering, throttle and suspension, the Murano keeps one static setup, so you can take it or leave it.
Cabin and road noise has been reduced in the new Murano, in part due to a new windshield made of acoustic glass. Even in the pouring rain, conversations in the cabin were easy to hear, with little noticeable wind or road noise. Though, we did notice loud, distinctive thumps in the wheel on one winter-worn road as we kicked up scattered acorns and sticks.