2015 Nissan Murano Introduction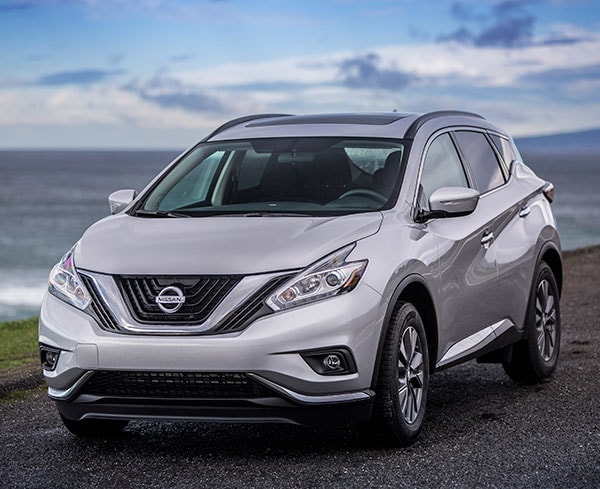 Completely redesigned for 2015, Nissan Murano gets a futuristic update inside out, from sheet metal to seats, resulting in bolder looks and a more upscale cabin.
When exterior designers at Nissan's California studio set out to recreate the Murano, they wanted it to look like a spaceship. At least, that's what one designer told us, recalling his impressions upon seeing the first-generation midsize crossover more than a decade ago. And while the Murano might not be ready for intergalactic travel, it succeeds at looking like nothing else on the road.
The 2015 Nissan Murano midsize crossover sport-utility seats five, with plenty of passenger and cargo space. Though it's not a luxury crossover, the redesigned 2015 Murano looks more upscale than many of its competitors. This is especially true on the inside, where the cabin has been redesigned with higher quality materials and more modern finishes. Seats now use Nissan's zero gravity technology, which offers a high level of support and bolstering. A new instrument cluster and the latest version of the NissanConnect interface also appear on the new Murano, as well as a new touchscreen display for cars equipped with navigation.
Cargo space is improved over the previous generation (pre-2015). The 2015 Murano offers 39.6 cubic feet of cargo space with all seats in place, which Nissan claims is the roomiest in its class. Rear seats fold easily and completely flat (not many do that), using either a pull-tab accessed from the second row, or using handles in the trunk. With the second row down, the Murano can hold up to 69.9 cubic feet of cargo.
New safety features also appear on the 2015 Nissan Murano, including blind spot warning, forward collision warning with emergency braking and radar-based adaptive cruise control. Some of these safety features come standard on higher trim levels, and others require the optional Technology Package.
Although housed in a brand new shell, the Murano's powertrain carries over from the last generation. The 3.5-liter V6 makes 260 horsepower and 240 pound-feet of torque and is paired with a continuously variable transmission (CVT). Power is adequate for everyday driving, though we found the CVT lags a bit when we need an instant response.
As before, the Murano is available in both front-wheel-drive and all-wheel-drive variants.
Fuel economy ratings for the 2015 Nissan Murano are quite good for the class, at 21/28 mpg City/Highway for both FWD and AWD models (a 20-percent improvement over the outgoing model, according to Nissan). That's in part due to a 146-pound weight reduction over the last generation, as well as additional aerodynamic enhancements. The 2015 Murano achieves a drag coefficient of 0.31, which is quite low for a crossover vehicle, and as Nissan loves to point out, is the same as a Porsche 911 Turbo. Low rolling-resistance tires and an underbody cover also help the Murano slip through the air more easily.
Though it's not the most capable performer when it comes to driving dynamics, the 2015 Murano is a good choice for those who want something that looks modern with a comfortable ride and a tasteful, roomy interior, without the price tag of a luxury brand. Competitors include other midsize crossovers like the Ford Edge (which has also been redesigned for 2015), Toyota Venza, Volkswagen Touareg and even the Lexus RX, which starts at about the same price as the top-of-the-line Murano Platinum trim.