2015 Nissan Murano Walk Around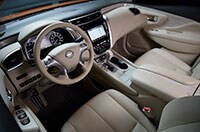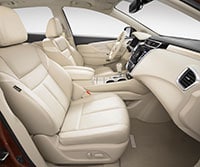 The exterior design, penned by Nissan's U.S. studio near San Diego, CA, is gutsier than that of its predecessors, with bold, unusual lines, deep creases and aggressive angles. Designers said they wanted to give the Murano a thorough update while keeping the same futuristic spaceship look of the original. The front end wears an exaggerated, V-shaped front grille, reminiscent of Nissan's smaller Rogue, but wider and more stylized. Sharply angled headlights with boomerang-shaped running lights flow upward into the Murano's accentuated shoulders.
The side view is equally bold, with a sharp flowing character line that flows high above the front wheel arches and into the passenger door, then continuing straight above the door handles into the high-profile, three-dimensional tail lights. The greenhouse, or window area, is highly unique, with blacked-out C and D pillars that create an all-glass look. Back windows are framed by aggressive flowing lines that create an almost pinched shape. When we asked our space-loving designer what this was design cue was called, he didn't have an answer. So we've dubbed it the Nissan Kink.
In back, the rear window glass sharply slopes beneath the roof spoiler, creating what designers call a floating roof. High, wide rear wheel arches flow into the rear bumper. Tail lamps echo the boomerang shape of the front headlights. Dual exhaust pipes are integrated into the rear bumper, giving it a planted, symmetrical look.
Interior
Contrasted with its flashier exterior, the interior of the Murano is more conservative and subdued. Notably, interior materials and finishes look tasteful and upscale, with clever modern touches. Wood trim found on previous versions of the Murano is gone, replaced with more contemporary pearlescent or titanium-look accents. Clear Lucite encases the shift knob and other areas of the vehicle on one particular interior color scheme, which makes the cabin look airy and bright without being too bling-y.
Central to the cabin design is the center screen, which is framed by a deep U-shape. In cars equipped with navigation, a new 8-inch touchscreen allows users to swipe, pinch and touch, similar to a smartphone or iPad. The large screen is easy to use and doesn't require too many steps to get where you want to go. Though, we miss the rotary knobs used by other car companies for certain features, such as zooming in and out of the map view. While it's easy to touch small icons when stopped, we find our fingers aren't as precise when riding shotgun around country roads or over rougher surfaces. Knobs and buttons for audio and climate controls are well-placed, easy to reach and intuitive.
A new instrument cluster in the Murano features two analog gauges, with a white-on-black color scheme that looks clean and is easy to read. Between the gauges is a new digital color display, which shows a variety of entertainment and vehicle information. Drivers can easily scroll through screens with the push of a button on the steering wheel.
We found the seats very comfortable. The leather on Murano SL and Murano Platinum is soft, and while not buttery like the cowhide found in more expensive luxury cars, it wasn't hard and waxy like others in the price range. Cloth upholstery comes standard on Murano S and Murano SV.
Murano seats use Nissan's latest Zero Gravity design, with a unique construction that helps to reduce fatigue and make the driver and front passenger feel nestled in their own respective cocoons. While we enjoyed the extra support on our low back, another journalist complained the seats were too heavily bolstered. If you like a high level of support, these seats are a good choice.
Front-seat storage is adequate, with two cupholders and a small covered compartment in the center console, and a wide center armrest that offers additional space. Side door pockets, however, are relatively narrow and can only fit a small water bottle. Even then, the angle of the cupholder pitches the bottle forward, making it suitable only for bottles with tightly fitting lids.
Rear seats are comfortable and offer a reasonable amount of support. There's enough headroom and legroom for adults of practically any size, though the Murano's 38.7 inches of rear legroom falls a couple of inches short compared to both the Ford Edge and the Toyota Venza. All three rear seats have their own headrests, which might be comfortable for backseat passengers, but unfortunately also cuts down on the driver's rearward visibility.
Cargo space is much improved in the 2015 Murano, measuring 39.6 cubic feet with the rear seats in place. That's about on par with the Ford Edge, and slightly more than the Toyota Venza. With the rear seats folded flat, the Murano can hold 69.9 cubic feet. Rear seats fold easily, using either a pull-tab accessed from the second row, or using handles in the trunk. Platinum trims get a power-return feature, which automatically raises the rear seats back up with the touch of a button.