2015 Scion FR-S Driving Impressions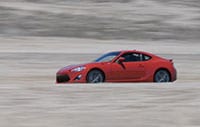 When it comes to performance, the FR-S will meet your expectations, as long as they are realistic. For a sub-$25,000 car powered by a four-cylinder engine, the 2012 Scion FR-S delivers tight handing, good feedback and plenty of fun.
Acceleration is smooth and linear, though, we sometimes found the FR-S didn't have a ton of thrust right off the line, or when trying to pass on the freeway at high speeds. Still, there was plenty of power for most driving situations. On the track, the car was able and forgiving, and while the low end didn't throw us back in our seats, we had ample power in the higher revs.
On our test car with the manual transmission, we found the shifter took some getting used to. Shifts were tight and staccato, with very short throws, slipping into the gates with what seemed like a single click. Though it might be too abrupt for some, we prefer it to the somewhat sloppy feel of the manual gearboxes on other cars. On a long road trip from Los Angeles to Northern California, we liked being able to slip it into sixth gear and cruise.
Cars with automatic transmissions are equipped with steering-wheel-mounted paddle shifters and have automatic rev matching, which means it will blip the throttle while downshifting to match engine speed for maximum performance. This is particularly helpful on the track. Shifts with the automatic are relatively quick but not lightning fast.
One interesting feature on the Scion FR-S is a rev indicator, which lets the driver set an alert at certain RPMs. Isn't an actual rev limiter, however, but does give a visual and audible warning, so you can catch yourself before pushing too far.
The firm suspension, while great for performance, makes for rough ride over speed bumps and into driveways. This is especially true of our test car, equipped with Toyota Racing Development (TRD) lower springs and sway bars. We felt every single bump in the road, which grew tedious after five hours on the freeway. But on winding roads and on the track, the FR-S was at its best, with a chassis that felt balanced and hunkered down, with very little body roll around corners. This setup is great for performance, but some people might find it too firm for daily driving.
The exhaust note of the FR-S is satisfying, thanks to a sound creator that pipes engine sound into the cabin. It was especially sweet on our test car with the TRD performance exhaust. Wind noise was evident at freeway speeds, although we didn't notice a lot of road noise coming from the 17-inch wheels and summer tires.
EPA fuel economy estimates for the 2015 FRS are 22/35/25 mpg for the manual and 25/34/28 for the automatic.