2015 Scion FR-S Introduction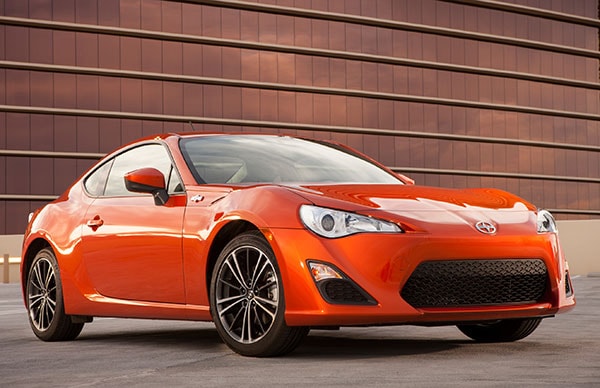 Scion FR-S is a fun, affordable rear-wheel drive coupe developed with Subaru that continues to be one of the best values among sports cars.
For 2015, Scion FR-S gets a firmer front suspension that equates to less body roll when pushing hard around twisty mountain roads or on the track. Other minor changes for the 2015 FR-S lineup include a new shark-fin antenna, bigger exhaust tips and new interior trim.
The Scion FR-S uses a four-cylinder, horizontally opposed, direct injection engine. The size and position of the lightweight powerplant allows it to sit low in the engine compartment, equating to a lower center of gravity for better balance and handling. Paired with a choice of a 6-speed manual or 6-speed automatic transmission, the Scion FR-S makes a respectable 200 horsepower and 151 pound-feet of torque.
Like other Scions, the FR-S comes in a single trim level, but several a la carte options and accessories are available, including a host of performance-enhancing features from Toyota Racing Development (TRD) including a dual exhaust, performance air intake, lowering springs, sway bar kit and performance brake pads. Special TRD wheels are also optional.
The handsome, sporty look of the FR-S is like nothing else in Scion's lineup. Not quite mean, but not quite cute, its bold design communicates it means business. On the inside, the interior is basic and simple, with the focus clearly on the driving. Sport seats are comfortable, but the FR-S lacks small, more luxurious touches like lighted buttons on the instrument cluster or steering wheel controls. The optional Pioneer navigation system with color touch screen isn't as large and beautiful as some, and looks like an aftermarket addition.
Still, the Scion FR-S remains one of our top choices when it comes to an affordable sportscar that can handle the street or the track. Its small dimensions and stiff suspension keep it firmly planted in demanding driving. Brakes are more than capable, and the FR-S even has a satisfying, throaty exhaust note, especially with the upgraded TRD dual exhaust. However, the ride might be too firm for those looking for a daily driver, especially with the optional lowering springs and sway bar kit.
EPA fuel economy estimates for the FR-S are 22/30/25 mpg for the manual transmission and 25/34/28 for the automatic. Toyota recommends Premium gasoline. FR-S is built alongside the BRZ at Subaru's Gunma assembly plant in central Japan.
Competitors to the 2015 Scion FR-S include the Subaru BR-Z, which shares the same platform, powertrain and most parts. According to Scion, the FR-S packs a firmer, more sporty suspension. Their competition include the Miata MX-5 Miata, Ford Mustang, Chevrolet Camaro, and Dodge Challenger.