2015 Subaru BRZ Driving Impressions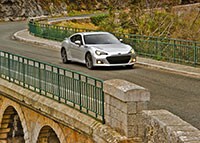 The Subaru BRZ is tossable, thanks to its quick steering and able Michelin summer performance tires. Acceleration is smooth, but in the low revs, it might not always get you there fast, especially at full throttle on a straight freeway on-ramp. But if you're between curves on a two-lane road, acceleration is just right.
The two-liter flat-four engine is better in the higher revs and redlines at 7400. Beyond that, the rev limiter will kick in, and both you and the car will not be happy. Torque is only 151 pound-feet, peaking at a high 6400 rpm, but we never would have guessed. The torque feels more available than those numbers suggest.
Stability control was non invasive and has five different levels, including the most aggressive setting for the track. A Torsen limited slip differential helps give the inside rear wheel traction in corners, especially accelerating hard out of second-gear curves.
The manual gearbox has very short throws, and can feel notchy at first, but we got used to it after a while. Alas, we didn't get a chance to drive a BRZ with the paddle-shifting 6-speed with sport mode and downshift blipping. We'd buy the manual, though. A word of caution, though, the BRZ doesn't have hill-hold assist, so you'll have to use the handbrake the old-fashioned way when stopped on a steep incline.
The brakes do the job quite nicely. We used them good and hard, and liked the firm pedal feel. Ventilated 11.6-inch discs front and rear, twin-piston calipers in front and single-piston in back.
We liked the suspension, both the around-town ride and out there on the track. The ride is firm, and it hugs the bumps and feels tight. While it might be the perfect setup for the track and enthusiastic Sunday drives, it could be a bit too firm for some as a daily driver.