2015 Subaru WRX Introduction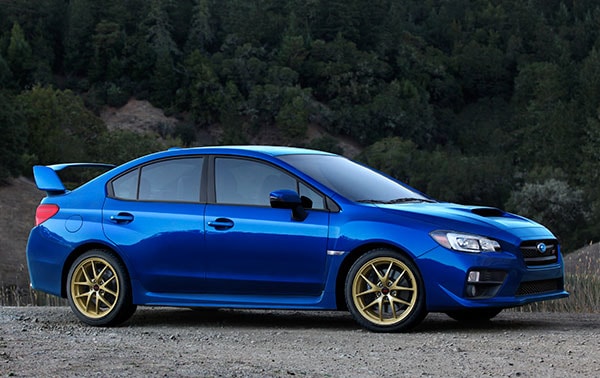 The 2015 Subaru WRX comes out swinging with its racy brother the WRX STI. Subaru is calling them all new, fairly enough, although it's not a redesign, just a complete going-over, with many changes to the chassis, body, engine, transmission and brakes. It handles, performs, and looks better than ever.
We got one week of seat time in a 2015 Subaru WRX STI, followed by another week in a base 2015 Subaru WRX, and they're very different cars. It was interesting to drive the hotrod first, because our view moved from the extreme to the restrained, and usually the comparison builds upward. Before you choose one or the other, the important thing is to know yourself. After that it's easy. It's hard to go wrong with either sedan. They deliver what they promise.
The 2015 WRX comes only as a hot-looking sedan; gone is the five-door box. The new body is the same width and height, with standard 17-inch wheels, while having a wheelbase one inch longer. The interior offers more space and the cabin offers more comfort, improved materials, and new standard technologies (e.g. rearview camera), and there's now an optional nine-speaker 440-watt harman/kardon premium audio system.
The torsional rigidity of the chassis, the core of any car, has been increased by 41 percent for 2015, with more high tensile-strength steel and bracing at key points. There's a new electronic power steering system with a ratio tightened ratio of 14.5:1, and 235/45 R17 Dunlop sport tires. Electronic improvements to the chassis include torque vectoring for truer cornering under power.
The 2015 WRX's 268-hp 2.0-liter direct-injection twin-scroll turbocharged boxer engine has new camshafts and valve springs, with 258 pound-feet of torque remarkably and wonderfully spread across a vast power band from 2000 to 5200 rpm.
There are two WRX transmissions, both new for 2015. Standard is a 6-speed manual, replacing the old 5-speed (the STI gets its own 6-speed manual). It's designed for high performance, with carbon synchronizers in first and second gears. It's also designed for better highway fuel mileage, with 5th and 6th gears being tall overdrives, having ratios of 0.780 and 0.666. Even 4th gear is overdrive, at 0.972.
This transmission combines with Subaru's legendary Symmetrical All-Wheel Drive. A viscous coupling locking center differential distributes torque 50:50 until more traction is needed at the front or rear.
The other transmission is more of a gentleman's tranny, called a performance automatic by Subaru; its proper name is Sport Lineartronic, and it's a CVT under cover, with eight steps when in Sport Sharp mode, six when in the other two modes. Shifting either automatically or with paddles, it combines with Subaru Intelligent Drive (SI-DRIVE), allowing the driver to choose Intelligent, Sport, or Sport Sharp modes, using a switch on the flat-bottom steering wheel.
The Sport Lineartronic uses the Variable Torque Distribution (VTD) version of Symmetrical All-Wheel Drive. A planetary gear-type center differential and an electronically controlled hydraulic transfer clutch distribute torque between the front and rear wheels. Under most conditions, VTD splits the torque 45:55, with the rearward torque bias helping turn the car in corners. The VTD system continually adjusts torque distribution according to sensor input from steering, yaw and g-forces.
Curiously, EPA-estimated fuel mileage in the WRX is better with the manual transmission than with the CVT. Ever since CVTs were invented, we've been hearing that their benefit is efficiency, but not here. With the 6-speed manual, the mileage is rated at 21/28/24 mpg City/Highway/Combined; with the CVT it's 19/25/21 mpg. Also, note: 91 octane fuel is recommended. Performance, if not long-term reliability, will suffer with Regular gasoline. Today's direct injection engines have higher compression ratios (the WRX is 10.6:1) and many of them need Premium fuel.
The STI uses a bigger boxer engine, a 2.5-liter twin-turbo making 305 horsepower, mated to its own 6-speed manual transmission, with controllable center differential to adjust traction under power, and multi-mode vehicle dynamics control. The STI suspension is considerably firmer and its handling quicker, with stiffer springs and a 13.0:1 steering ratio, and there's a big Brembo brakes package. Inside, there are Alcantara leather seats with red stitching, and outside the styling is exclusive, with aggressive lines in the hood, fenders, doors, panels, bumpers, headlights and taillights.