2015 Volkswagen Golf R Driving Impressions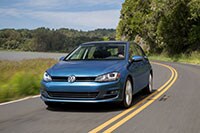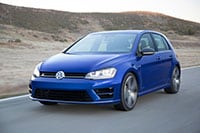 The 2015 Volkswagen Golf is both sophisticated and fun, with European road manners that make it pleasurable to drive around town and on the highway. Though all 2015 Golf models use four-cylinder engines, there is ample power for most driving needs.
Golf TSI models use an updated version of VW's 1.8-liter turbocharged, direct-injected inline-4, good for 170 horsepower and 200 pound-feet of torque. We found the Golf TSI with the automatic transmission delivered smooth acceleration and shifts were timely. There was a brief moment of hesitation at tip-in, followed by ample thrust, a common downside for many newer cars tuned to maximize fuel economy. In Sport mode, the transmission holds gears longer, providing plenty of thrust during a test drive through the hilly roads of Northern California. The ride is firmly sprung in Golf TSI models, but not uncomfortable. Rebound is smooth and quick when going over train tracks and potholes. Over rougher roads, its multi-link rear suspension helps keep everything in check. Fuel economy for Golf TSI is 26/37 mpg City/Highway with the manual and 26/36 mpg City/Highway with the automatic, according to EPA estimates.
Golf TDI models use a revised version of VW's turbocharged 2.0-liter direct-injected inline-4, which makes 150 hp and 236 lb.-ft. of torque. We found the Golf TDI exceptionally quiet on startup, and the clattering typical of its diesel engine was only obvious when driving at low-to-moderate speeds on demanding roads. With the 6-speed manual transmission, clutch engagement was smooth and shift throws were comfortable, but the cable shift linkage felt soft. The Golf TDI didn't seem tractable at very low speeds; in other words, we often needed to downshift to first gear at parking-lot speeds where in many cars second gear would suffice. We also felt caught between second and third gears at moderate speeds on winding uphill roads: the engine whirred along at the top of its limits in second, but failed to provide enough torque (oomph) in third. As a result, we found ourselves shifting back and forth around nearly every turn. If you like the driver engagement of a manual, this car will give you that and then some. If not, opt for the automatic with the TDI. To create more trunk space (and perhaps to cut costs), Golf TDI models no longer have the sportier and more expensive multi-link rear suspension found on other Golf models. Instead, Golf TDI models use a less sophisticated torsion-beam rear suspension. Driving around town, the difference was negligible, but we found the Golf TDI became unsettled and was much less composed around hard corners and on uneven, undulating surfaces than the other Golf models. While it may not deliver the best ride quality of the lineup, the Golf TDI excels in fuel economy, with 31/42 mpg City/Highway with the manual transmission.
Golf's brakes work well on all the models we drove. On the previous-generation (pre-2015) Golf, we dug into the brake pedal repeatedly on Germany's Autobahn to slow down from triple-digit speeds. This time, though our drive was at much lower speeds, we felt just as confident. Pedal feel is solid, and braking feels stable.
Golf GTI is sporty yet refined, with its 2.0-liter turbocharged inline-4 that makes 210 hp and a hearty 258 lb.-ft. of torque. Not only is the GTI more powerful than before, it's also about 80 pounds lighter, which makes the GTI feel plenty zippy around town and on the highway. Suspension in the GTI is firmer and feels flatter through the corners than the standard Golf, which makes it more comfortable for aggressive driving. An optional Performance Package for the GTI boosts output to 220 horsepower and adds bigger brakes and a new torque-sensing electronically controlled limited-slip differential. As its description suggests, the limited-slip differential improves stability and grip via electronic means, rather than mechanical. The variable assist electric steering in the GTI feels a little heavy at speed, which will satisfy those who equate high steering effort with sportiness. It's also quick, at 2.2 turns from lock to lock, and exceptionally accurate by the standard of these new electric steering systems. The exhaust note on the GTI is satisfying, and one can hear it adequately through the cabin, though it has quite a bit of competition in the form of road and tire noise. In fact, we found the GTI so noisy at highway speeds, we had to considerably raise our voices to converse. Fuel economy for the 2015 Volkswagen GTI is rated at 25/34 mpg City/Highway with the manual and 25/33 mpg City/Highway with the automatic.
The e-Golf, as expected, is exceptionally quiet. And with a single-speed transmission there's no shifting. Aside from that, though, it has the same Euro feel, response, and firm ride quality as a standard Golf. There are three operating modes, Normal, Eco, and Eco+, which successively reduce power and limit top speed, from a maximum of 87 mph to 56 mph. Presumably, operating judiciously in Eco+ will yield the e-Golf's maximum range on a single charge: 83 miles. But we weren't able to spend enough time with the car to verify that.
Golf R is the family rocket. Thanks to all-wheel drive traction and the lightning upshifts delivered by the DSG paddles, VW claims the Golf R can sprint from 0 to 60 mph in 4.9 seconds, but it felt quicker than that to us. Top speed is limited to 155 mph, and it's a good bet the Golf R will get to that velocity pretty quick. However, the real virtue here is dynamic. The Golf R ups the ante on the GTI's cornering limits, inspiring driver confidence in some very high speed curves, and the firmer suspension all but eliminates body roll, particularly with the optional DCC auto adjusting damping. Beyond that, the braking is formidable: never a hint of fade. We found we could brake as hard and as often as we liked. Volkswagen calls the Golf R the fastest car it has ever brought to the U.S. After a short afternoon with this compact rocket, we have no reason to doubt it.