2015 Volkswagen Golf R Summary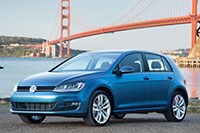 Completely redesigned for 2015, the Volkswagen Golf is a versatile, fun-to-drive car available in a variety of body styles and powertrains. Golf TSI offers German refinement at Honda prices. Golf TDI achieves excellent fuel economy and has more cargo space than before, though ride quality is slightly compromised. Golf GTI is sporty yet refined, with increased power and less weight over its predecessor. Golf R adds even more power and agility. The e-Golf provides an answer for drivers who value the firm feel and response of a European car but want to bypass gas stations.
NewCarTestDrive.com senior correspondent Laura Burstein filed this report after her test drives of the Volkswagen Golf, TDI, GTI in San Francisco. NCTD founding editor Tony Swan added impressions of the Golf R and e-Golf based on drives in Southern California and Virginia, respectively.