2015 Volkswagen Golf R Walk Around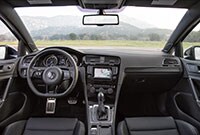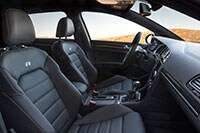 While the 2015 Golf is fully redesigned, exterior changes are subtle. The front end is slightly lower and wider, with a shorter front overhang. Headlights are narrower, with standard foglamps on upper trims, and new LED running lights are optional.
Underneath all Golf models is a new architecture, VW's MQB platform, which is flexible enough to accommodate a variety of powertrains and body shapes from the ground-up. Compared with the previous generation, the 2015 Volkswagen Golf is about two inches longer, an inch lower and ever-so-slightly wider, riding atop a wheelbase that's stretched by more than two inches. The front wheels sit 1.7 inches farther forward, making the Golf appear to sit farther back on its haunches and giving it a sportier, more aggressive stance.
Volkswagen says the new shape also helps the Golf achieve better aerodynamics; the drag coefficient has been improved from 0.32 to 0.29. A lower number is better, as it helps the car slip more easily through the air, improving performance and fuel economy.
From the side, the longer hood is evident, as is its lower stance. The side body crease that runs from behind the front wheel arches and just below the door handles is crisper and sharper.
In the rear, the back end is flatter, framed by narrower, more angular tail lamps. The rear window opening is sits slightly higher up. The lower rear bumper is also more angular, framing the license plate housing in twin symmetrical bulges. Both TSI and TDI models get twin tailpipes on one side.
GTI models are differentiated by a unique mesh front grille and bold horizontal lines across the foglamp housings, side skirts, a roof spoiler and red calipers. In back, the GTI gets a unique rear diffuser and twin chrome exhaust tips, one on either side.
Golf R distinctions are subtle, entailing a revised front bumper design with larger air intakes, bi-xenon headlights with LED surrounds, black finish side mirror backs, an R-specific wheel design, four tailpipes, and of course R logos on the front fender.
The e-Golf was to designed to look and feel like a regular Golf, so exterior distinctions are minimal. The headlights are LED, the wheel design is specific to this car. And because e-Golf is battery-powered, there is no tailpipe.
Interior
As always, the interior of the 2015 Volkswagen Golf exudes an air of simple elegance. Some might call it austere, but we like the controls and trim pieces that blend in unobtrusively with their surroundings, especially in black. That's quite a contrast from other car makers, who seem to overwhelm the eye with varying shades of trims and textures in the cabin or try too hard with gimmicks like cupholders that change color.
Controls are canted slightly toward the driver, and the instrument cluster has a classic white-on-black numbering that's easy to read. An information screen sits between the tachometer and odometer and allows drivers to easily see various functions by toggling through a control on the steering wheel. We were slightly bothered by the odd slant of the instrument cluster, however, which is angled upward.
In one model we drove, the instrument panel was wrapped in a pleasing, soft-touch material that was textured just enough to give it interest, with a soft matte finish that made it look high-end and also prevented glare. The center stack, gearshift surround and dash came trimmed in a tasteful, low-gloss brushed aluminum-look trim.
A new standard color touch screen sits in the center stack, flanked on either side by rows of buttons that control audio, phone and vehicle information functions. The buttons allow quick access to each function, without looking cluttered. While the screen is a nice addition on base models, we would like to see a larger screen for the more expensive trims and the GTI, especially on cars equipped with navigation. Below, three perfectly symmetrical knobs operate the climate control functions.
On cars equipped with pushbutton start, the button sits on the center console, rather than next to the steering column like in some cars. This felt a bit unnatural, but we think owners would get used to it relatively quickly. Traditional ignition keys are used on some models, with a key that flips out of the fob; and you're never looking for the key.
All 2015 Volkswagen Golf models come standard with iPhone connectivity and use Apple's newest Lightning plug. Though, when our iPhone 5s was plugged in, we were disappointed that our phone's navigation audio commands did not come through the car's speakers, as it does with Hyundai, Nissan and most luxury brands. Golf's optional built-in navigation works fine, though we found the female voice somewhat grating.
A premium audio system that comes on Golf SE and Golf SEL trims is made by Fender, of guitar fame. If you like your music loud, the Fender system will deliver, but at low to moderate volumes, we didn't find it remarkable. In fact, it was especially hard to hear in the GTI due to all the road noise.
Front seats are comfortable, and getting in and out of the car is easy, even for our six-foot-five driving companion. Side bolsters hold occupants firmly around the corners and fit a range of body styles and sizes, though our tall colleague mentioned after some time he was feeling a tad pinched in the hips. Standard upholstery on our test car was Volkswagen's V-Tex leatherette, which was comfortable and appears as if it would hold its shape long-term, though it would be hard-pressed to mistake it for real leather. Our SE model was equipped with partial power seats; fore-and-aft adjustments are manual, while recline functions are automatic. We find this combination a bit strange and would prefer either all-manual controls like those found on the Golf S 2-door, or the 12-way full power seats that come on SEL trims.
Despite the 2015 Golf being longer than its predecessor, front legroom remains stays the same at 41.2 inches. In the rear, the Golf gains only one-tenths of an inch in legroom at 35.6 inches. And because it's about an inch lower, the Golf loses some headroom compared with the outgoing model: about an inch in front, and about a half-inch in the rear. Still, the Golf's boxy shape makes it plenty roomy, and we got no complaints in that department even from our very tall driving companion, who fit fine behind the (much shorter) driver.
Outward visibility is excellent, unimpeded except for the large C-pillars (the rearmost roof supports).
Storage space is plentiful in the Golf, with twin cupholders in the center console, and wide, deep front door pockets that can hold giant water bottles and coffee mugs. Rear passengers get a fold-down center console, when a fifth passenger isn't in the center seat.
Cargo space measures 22.8 cubic feet in all models. This is especially significant in the TDI model, which previously could carry only 15.2 cubic feet (due to the position of the diesel system's urea tank in the rear of the car). The tradeoff, comes in the form of a new, space-saving torsion beam suspension, which slightly sacrifices driving dynamics. A split folding rear seat is standard, as well as a center pass-through, which allows multiple cargo and passenger configurations.
Compared to the four-door Ford Focus hatchback, the Volkswagen Golf offers slightly more rear legroom but falls short of the Focus's 23.8 cubic-foot trunk. The Kia Forte hatchback gets more headroom, slightly more rear legroom and and 23.2 cubic feet of trunk space. Mazda3 hatches slightly more rear legroom with 35.8 inches, but have slightly less headroom in the front and rear the least amount of trunk space at 20.2 cubic feet.