2015 Volkswagen Jetta Driving Impressions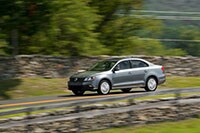 Each of the engines in the 2015 Volkswagen Jetta has a different set of characteristics. Because VW's turbocharged powerplants are so good, the base models with their 2.0-liter naturally aspirated engines can comparatively feel about as sporty as a tractor. The most basic variants comes only with the 5-speed manual transmission, which has long throws and feels numb, and the lack of torque in the 2.0-liter engine means you have to downshift a lot.
Jettas powered by the 1.8-liter turbocharged engine offer adequate power for commuting and driving around town or on the freeway. We like it especially with the 6-speed automatic transmission, which has a sport mode that's sharp and effective. It shifts smoothly, both on steep hills and in slow-and-go freeway traffic, a situation where many transmissions will constantly shift up and down. Manual mode can be used for spirited driving, shifting at the lever. It's programmed well, and doesn't keep over-ruling the driver.
The GLI's 2.0-liter turbocharged four-cylinder is understandably more fun, with its 210 hp and 201 lb-ft. of torque, which is available as low 1700 rpm. It does 0 to 60 in 6.8 seconds with the satisfying DSG 6-speed auto-manual transmission, and there's plenty of smooth power at high speeds. The 6-speed manual transmission in the GLI is a pleasure, but the DSG automated manual is the best of its kind, with sharp shifts in auto or manual mode, although in the GLI we found that it surged a bit around town. Well-placed steering-wheel paddles come with the DSG. They're very tidy and effective, more like tabs than paddles.
Our favorite powertrain is the Jetta TDI with DSG transmission. The 2.0-liter turbocharged direct-injection diesel engine makes 150 hp and an impressive 236 lb-ft of torque. It's not the fastest of the bunch, but is plenty able, with plenty of thrust in the low RPMs. The DSG transmission shifts smoothly for a dual-clutch, with gearing that isn't too wipmy, nor too aggressive. Although it's a diesel, the rumble and vibration typically found with these cars is barely perceptible. The TDI is also highly efficient, with an EPA fuel economy rating of 31/46 mpg City/Highway with the manual, and 31/45 mpg with the DSG.
All Jetta models benefit from a multi-link rear suspension, which in 2014 replaced the old torsion beam setup. The change makes the Jetta feel more composed, especially over rough road and around corners. The sport-tuned suspension on the SE Sport and GLI models, is, as expected, firmer, but isn't uncomfortable. Still, we found quite a bit of road noise on rough asphalt.
The Hybrid is the most expensive of the Jetta lineup, and in our opinion isn't worth the huge price premium. It's EPA rated at 42/48 mpg City/Highway, but we only got 35.0 mpg on a 340-mile test drive in a 2014 model, half casual city and half freeway at 72 mph. It also requires premium fuel, while the others run on regular or diesel. Because of its regenerative braking system, it drives differently than the other Jettas, with the brakes feeling grabby at slow speeds.