2015 Volkswagen Jetta Introduction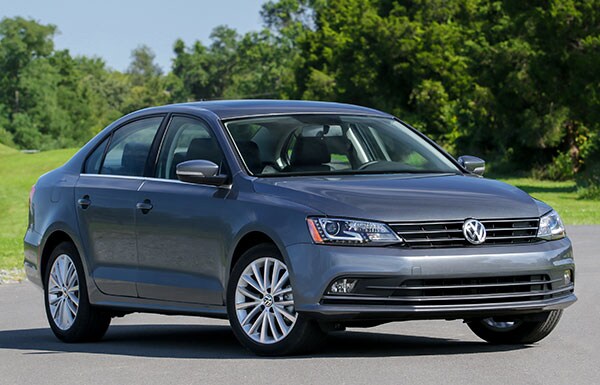 For 2015, Volkswagen Jetta is updated with redesigned styling, an improved interior, retooled features and a new version of the TDI clean diesel engine. The 2015 Jetta is a compact four-door sedan with front-wheel drive.
The 2015 refresh of the sixth-generation Jetta includes a redesigned front end with a new bumper, wider lower air intake, new foglights. Up-level models get new LED daytime running lights. In the rear, the 2015 Jetta gets a new trunk lid, taillights and bumper. Aerodynamics are also improved, making the Jetta slip through the air more easily.
Inside, the 2015 Volkswagen Jetta gets a few upscale tweaks, including redesigned gauges and chrome accents around the dash and instrument panel. Still, the Jetta retains a clean, minimalist look that is functional and intuitive, although perhaps not emotionally stirring. Seats fit most drivers well, and the standard cloth upholstery is on par for the segment, while optional leatherette upholstery (standard on more expensive trims) is comfortable and could pass for real leather. New interior upholstery and finishes also debut, as well as updated equipment packages.
The revised 2.0-liter turbocharged four-cylinder TDI clean diesel engine offers an increase in fuel efficiency over the previous version (by 4 mpg). The direct-injected powerplant makes 150 horsepower and 236 pound-feet of torque, the latter on tap from as low as 1,750 rpm. EPA fuel economy estimates for the Jetta TDI are 31/46 mpg City/Highway, with the manual transmission and 31/45 mpg with the 6-speed dual clutch automatic. We found the engine smooth and capable, without too much noise, in both manual and DSG variants.
Other engines carry over from before: The base 2.0-liter naturally aspirated inline-4 makes 115 hp and 125 lb.-ft. of torque; the 1.8-liter turbocharged inline-4 makes 170 hp and 184 lb.-ft. of torque; sporty GLI models are powered by a 2.0-liter turbocharged four-cylinder gasoline engine good for 210 hp and 207 lb.-ft. of torque.
The Jetta Hybrid also continues for 2015, but in a single, fully loaded trim level, powered by a 1.4-liter turbocharged 4-cylinder gasoline engine, paired with a 27-hp electric motor. Unlike many hybrids, the Jetta starts up on pure electricity and can run solely on the battery at speeds of up to 37 mph, according to Volkswagen (which, as with all cars, is heavily dependent on driving style). The combination of the gas engine and electric motor yields a total of 170 hp and a maximum of 184 lb.-ft. of torque.
In a 340-mile drive of the 2014 Jetta Hybrid, we got 35.0 miles per gallon combined driving, well below the EPA fuel economy rating of 42/48 mpg. Even for those who can achieve EPA numbers, we don't think the fuel savings is significant enough to merit a price premium of more than $4,000 over a similarly equipped TDI model. The Jetta Hybrid also requires Premium gasoline and has a smaller trunk to make room for the battery pack. For all these reasons, we'd rather take the Jetta TDI.
In any form, the Jetta is comfortable to drive, with well-placed armrests, user-friendly cupholders, good door pockets and plenty of headroom. Our only complaint would be the optional navigation system, which is small and looks antiquated compared to others on the market. Considering sister company Audi does such a good job with their in-car technology, we're surprised some of that hasn't trickled down to Volkswagen. Other controls are perfectly fine, including the gauges, climate and radio.
Competitors to the 2015 Volkswagen Jetta include other compact sedans like the Chevrolet Cruze (which is also available in a diesel variant), Ford Focus, Honda Civic, Hyundai Elantra, Kia Forte, Mazda 3 and Toyota Corolla.