2015 Volvo V60 Introduction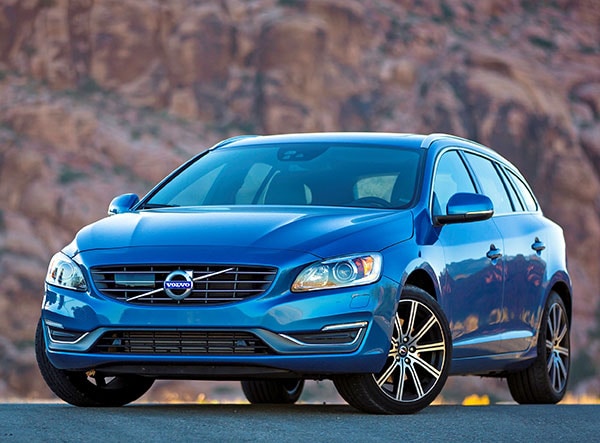 The 2015 Volvo V60 is an all-new model, a sports wagon that has been eagerly anticipated, because Volvo's legacy is built on wagons. The V60 also has automatic history, as it marks the beginning of a new Volvo engine program called Drive-E.
The 2015 Volvo V60 lineup offers a choice of three engines, a new four-cylinder 2.0-liter turbo, a 2.5-liter five-cylinder turbo and a 3.0-liter six-cylinder turbo. V60 also offers a choice of front-wheel drive and all-wheel drive.
The front-wheel-drive V60 is powered by a new four-cylinder 2.0-liter turbo that's powerful and efficient, mated to a new 8-speed automatic transmission that gets it right. Volvo plans to move Drive-E engines into other models. With front-wheel drive EPA-rated at 25/37 miles per gallon City/Highway, or 29 mpg Combined city/highway.
The new Volvo four-cylinder engine incorporates a number of tricks to help achieve its mileage. The Eco+ system can improve fuel mileage by 5 percent, with functions including start/stop that shuts the engine down from 4 mph; plus Eco-coast which reduces engine drag and Eco-climate which reduces load on the air conditioner.
That's when you feel like Dr. Jekyll. If you want to be Mr. Hyde, that same do-gooder engine makes 240 horsepower and 258 pounds-feet of torque, and will accelerate from zero to 60 in a quick 6.1 seconds, with front-wheel drive. It's helped to that jackrabbit time with a super-boost feature on the turbo that gives it 285 pounds-feet of torque for the first 10 seconds of full-throttle acceleration.
There are two other models of V60, using carryover powertrains. The V60 T5 AWD uses a 2.5-liter inline-5 engine making 250 horsepower and 266 pounds-feet of torque to reach 60 mph in 6.6 seconds. The 2015 Volvo V60 T5 AWD is EPA-rated at 20/29 mpg City/Highway, or 23 mpg Combined.
The V60 T6 R-Design gets the 3.0-liter inline-6 making 325 horsepower and 354 pounds-feet of torque, with 0-60 in 5.4 seconds. The Volvo V60 T6 R-Design gets an EPA-rated 19/28 mpg, 22 mpg Combined.
If that's not enough there is the Polestar V60, Polestar being the high-performance division of Volvo, like AMG to Mercedes, or Mazdaspeed to Mazda, or Nismo to Nissan. The Polestar V60 takes the R-Design and makes it track ready by changing the suspension, brakes, exhaust, engine mapping, wheels, tires, and aerodynamic trim. Zero to 60 in 4.7 seconds. EPA 18/27 mpg City/Highway, 21 mpg Combined.
The Polestar is for extremists. Even the front-wheel-drive T5 Drive-E with available Sport chassis offers plenty for the enthusiast. The ride is firm for good handling, and the cornering is flat and without understeer, thanks to standard torque vectoring, called Corner Traction Control. In turns, the outside front wheel gets more drive to keep the car tracking where the driver steers it.
The V60 was designed to follow the flow of the S60 sedan's award-winning architecture, including its sculpted sloping hood. Two character lines stretch elegantly from the front to rear fenders, at shoulder and rocker. The roofline suggests coupe as much as wagon. It's a graceful car.
It's a wonderful driver's cabin, with simple and effective switches and screen. The man-machine interface works. It's stylish and clean, with organic blue-lit instrumentation and the best speedometer ever. Hand-stitched available leather seats are bolstered well for hard cornering or road trips.
The V60 is a whopping 9 inches lower than the Volvo XC60, while giving up only 1.3 inches in rear headroom. Cargo capacity is only 43.7 cubic feet compared to 67.4 in the XC60, but that might be compensated by the convenience of the standard 40/20/40 rear seat that folds flat easily. A flat-folding front passenger seat is available.
We found it interesting that the V60 hasn't grown in size, from the original V70 wagon in 1998; it's actually 1 inch shorter, but 4 inches wider and with a wheelbase that's 4.5 inches longer, for better stability. It better in every respect, including about 5 mpg in fuel mileage with a more powerful engine. The T6 AWD costs almost exactly the same as the V70 did in 1998. Consider 61.6 percent inflation since then, and it's clear that the V60 (and all new cars) is a steal, in the big picture of the quality of life.