2015 Volvo V60 Summary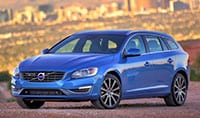 The Volvo V60 is a new model, with the base T5 using a new 2.0-liter engine called Drive-E that's fast and estimated to get 29 mpg, with a new 8-speed automatic transmission. AWD and R-for-racy models are available. Its body is stylish, its chassis firm, interior beautiful and blessedly functional, and its powertrain is silky smooth and silent. It costs about 60 percent less in today's dollars than its forebear the V70 did, 20 years ago. What's not to like?
Sam Moses filed this report after his test drive of the Volvo V60 T5 Drive-E near Portland, Oregon.