2016 Acura ILX Driving Impressions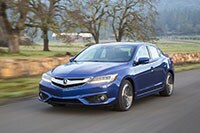 The 2016 Acura ILX is comfortable to drive. It's by no means a sports car, nor is it advertised as one. On the other hand, it isn't boring, either. It's luxurious enough for daily driving, yet peppy enough for a spirited Sunday jaunt.
Honda's 2.4-liter direct-injected inline-4 engine, used exclusively in all ILX models, produces plenty of pickup with its 210 horsepower and 180 pound-feet of torque. Acceleration is smooth and linear, and we had no problems merging onto highways or passing when we needed to.
We especially like the gearbox, an 8-speed dual-clutch transmission with torque converter, which produces the quick shifts characteristic of a DCT without the jerkiness.
The ILX is equipped with a Sport mode, which changes the shift points to maximize performance. Unlike some manufacturers' sport modes, however, it does not change steering feel, throttle mapping or suspension settings. Such gimmicks aren't really needed on a tame sedan like the ILX, though, and we found the transmission particularly shines in this setting. In Sport, the ILX holds gears longer and downshifts perfectly when decelerating, providing some extra oomph. Although the gearbox could get a bit busy with the shifts around downhill turns, shifts were always smooth, not abrupt.
Steering on the ILX is greatly improved. This was especially evident after a spin in the outgoing model, whose steering seemed dead and unresponsive in comparison, and didn't handle the twisty roads as precisely. Still, the ILX isn't the best choice for canyon carving, and doesn't have the dialed-in feel of a BMW or Audi. It's nose-heavy, which makes it a better choice for cruising and commuting rather than tackling demanding roads. The ILX has a weight distribution of a whopping 63/37 front/rear, compared with the near-50/50 balance of the BMW 2 Series or the 58/42 split of the Audi A3.
Other improvements to the 2016 Acura ILX include additional bracing to the chassis, which we noticed provided more stability and less body roll in comparison to the old model. Brake rotors are larger on the 2016 ILX than before, which results in smooth, confident stopping.
The 2016 ILX is quieter than before, thanks to thicker window glass and more sound dampening, as well as active noise cancellation, which picks up engine and road sounds from a microphone and pipes in noise-combating frequencies through the car's speakers. Though improved from the outgoing model, we still noticed some mild to moderate road noise on bumpier roads, especially with the A-Spec model's larger tires.
A suite of new optional safety features for 2016, dubbed AcuraWatch, includes adaptive cruise control, includes adaptive cruise control, lane keeping assist, road departure mitigation (more aggressive than lane keeping assist, which will steer the car back into the lane if the driver drifts off the road) and collision mitigation with automatic braking, which will stop the car if it senses a collision is imminent. The sensitivity of these systems is fixed and not adjustable like those used by some car companies. Still, we found they were more helpful than annoying, and the lane departure feature gently guided us back into our lane when cruising in a straight line on the highway, yet didn't fight us when we were driving around twisting mountain roads.
Fuel economy for the 2016 Acura ILX is an EPA-estimated 25/36/29 mpg City/Highway/Combined for all models, an improvement over both outgoing gasoline ILX models, and especially admirable considering the 2016 ILX is about 100 pounds heavier. As with all vehicles, however, real-world fuel economy varies depending on mode and driving style. Jaunting through the hills above Napa Valley, we pushed the ILX around twists and turns for about three hours, mostly in Sport mode, where our fuel economy hovered around the 20 mpg mark.