2016 Acura MDX Introduction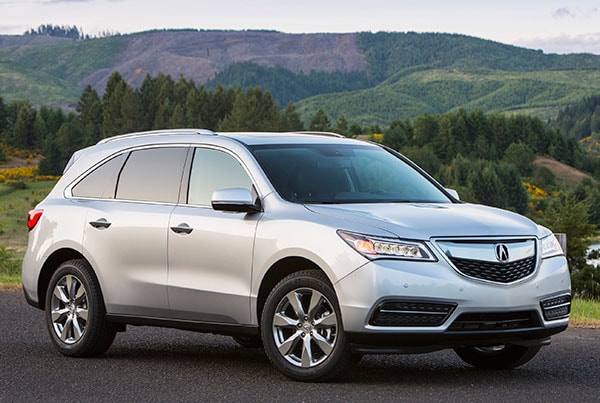 The Acura MDX has been further refined for 2016 following a complete redesign for the 2014 model year.
The 2016 Acura MDX gets a new nine-speed automatic transmission with a push-button gear selector that frees up interior space. Meanwhile, a new twin-clutch SH-AWD all-wheel-drive system has been made available to 2016 MDX models. New safety features and more technology, including Siri Eyes Free voice recognition are available. Inside are new refinements, including a driver's seat that moves rearward when the door is opened making it easier for driver entry and exit.
MDX is a premium midsize SUV in the same class as the Lexus RX, Volvo XC90, Buick Enclave, BMW X5, Audi Q7, Infiniti QX60, and Mercedes-Benz ML-Class. Acura first introduced the MDX in 2001 and it is now on its third generation.
MDX seats seven, with three rows. All models use a 3.5-liter V6 rated at 290 horsepower. Front-wheel drive is standard and all-wheel drive is optional.
MDX looks sharp and offers sharp handling and quick acceleration performance. The new nine-speed automatic allows quicker acceleration than did the previous six-speed automatic. Luxurious and enjoyable to drive, with a versatile interior, MDX has a proven record for being reliable and holding its value well.
EPA-estimated fuel mileage is 19/27/22 mpg City/Highway/Combined with front wheel drive, or 18/26/21 mpg with all-wheel drive. A Stop/Start feature comes on upper-level models that lowers the EPA City ratings by 1 mpg. Acura recommends Premium gas.
The Super Handling All-Wheel Drive system works well for wintry conditions. The 2016 MDX SH-AWD features a new twin-clutch rear differential that directs power between the front and rear wheels and also between the left and right rear wheels. SH-AWD improves handling stability.
We found the new nine-speed worked well most of the time, but it sometimes hesitated before selecting a gear, for example going from steady throttle on an on-ramp to acceleration for getting onto the highway.
Handling is responsive in Sport mode, but Sport and Normal are uncomfortably firm on beat-up streets; Comfort mode is better on broken pavement. The MDX is quiet underway.
The interior is roomy and comfortable and controls are intuitive and easy to operate. The front seats are comfortable and luxurious, and ingress and egress are easy. The 2016 MDX gets a revised driver seat that moves to the rear when the driver door is opened, making entry and exit easy.