2016 Acura MDX Walk Around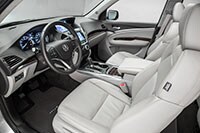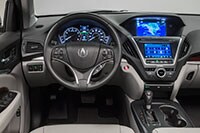 The looks of the Acura MDX have not changed since the third-generation version was launched for 2014.
The MDX nose looks like a beak, drawing in some mixed reviews. The profile and the rear are undistinguished, resembling those of other midsize SUVs.
Interior
The MDX interior is straightforward and easy to operate has the feel of a premium SUV. The front seats are comfortable.
2016 brought an intuitive push-button transmission shifter which frees up some space. The shift buttons are distinctive from each other in both appearance and feel but are easy to use. The parking brake is a foot brake where you'd have to push down to engage and push again to disengage.
The center stack has a chrome surround that can reflect sunlight at certain angles. 2016 models get a new, slim frameless rearview mirror that's unobtrusive.
The second row moves forward or rearward for greater room for third-row passengers or second-row passengers. Pressing a switch allows easier ingress and egress to the third row seats. Squeezing into the third row is still a bit difficult, however, suitable only for children.
Cubby storage is superior to most European SUVs. The center console has a deep bin. Next to the center console and just above is a small tray for smartphones or other small items. Cup holders are straightforward and positioned well. Ahead of those is a small bin for keys with a power receptacle.
MDX offers nearly 91 cubic feet of cargo space with the two rear rows of seats folded, significantly more than that of the 2015 Lexus RX, with its 80 cubic feet. An underfloor storage area is provided. The third row folds by pulling a lever to mechanically flip them down. The third row folds flat but leaves small holes in the corners that may need to be stuffed with rags if you have a dog. The second row splits 60/40 and folds independently almost completely flat however, there are lots of gaps and holes.